Return to Main Index Page


By Judi Kent Pyrah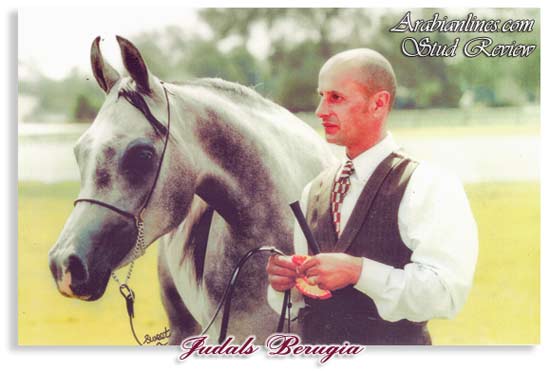 Photo By Sweet
In 1988 we bought this run-down Farmhouse with a few stables and outbuildings with about 3 acres of gardens and paddock, sitting 900 ft up on the Hambleton Hills between Thirsk to the west and Helmsley to the east , a gloriously beautiful National Park Area in North Yorkshire. Only 20 mins from the A1 and 20 mins to York by train, 30mins from Tees Side Airport, 1hr Leeds/Bradford and easy access to any major motorway to anywhere. Our only problem ? A 1in 4 Sutton Bank with a hair-pin bend half-way up! Travelling from or getting home to our private little haven from many locations around the world, was only a problem if it was snowing and we get it all, or a traffic problem on the bank! (Av. 4 per wk.).But its much improved now and we`re quite blase in the horsebox!

After various building and refurbishment projects and the aquisition of more land over the years, we were finally in a position to start the" Stud" in 1999; adding more stables as we grew to accommodate our 22 horses. There are 7 post and railed paddocks, enclosed` weather proof` stable areas , shower room, outdoor menage , grooms` cottage and mobile home , lab/workshop, feed /tack /rug rooms and of course studios, one each! 2005 should see our indoor school eventually rise and prove invaluable, for not only winter training/excercise and conditioning, but to assist with our increasing workload - backing and riding our own home bred youngsters - at last!

We have both worked in varied situations ,experiencing many different aspects of life for many years away from out home county N. Yorkshire. We are both professional Artists. Alan, who specialises in Wildlife art has been painting for over 40 years and has travelled the World studying and painting; leading specialised bird /safaris/ teaching trips as well as exhibiting and touring and always promoting & working for conservation and highlighting the endangered species through his art. ( Read about Alan & Judi in the articles section click here )

My career started painting portraits and pets and horses until all I really wanted to paint were my beloved horses.

Many supporting jobs and 10 years as a restauranter/hotelier with my ex husband and then productive publishing contracts in Canada and America, exhibitions etc and now, still painting, but now mostly my all time dream horse, the Arabian, possibly the most beautiful creature on the planet . My painting career has opened many doors allowing me to see so many beautiful and special horses of many different breeds and disciplines around the world.

I have been passionate about horses all my life and even as a child used every opportunity to be with them. I didn`t own my own `til I was 33 but had worked as a groom in hunting, polo, dressage and private yards, while fearlessly excercising other peoples horses and ponies whenever possible. Years later when the opportunity came to really get to grips with my then favourite Thoroughbreds while living here in the glorious hills of Yorkshire again, my ambition was still to one day event. I had some good horses but never finding one in my price range good enough at all three disciplines. The only one that did hated my horsesbox and being on her own.!!??

However, after having my 3rd (and last) child at 40 and my painting career thriving, Alan thought I`d better face up to my responsibilities and give up risking life and limb over cross country fences.To be honest my nerve was definitely wobbly.
I then came across a tall (15 3 ) purebred Arabian chestnut gelding aged 12 .(I`d always believed they were all about 14 2) Strangely compelled to just go and see him- was totally smitten when I rode him .

Wow did we click, I realised this "pony "(after 17hds) rode like a 16.2. His turn of speed, fluid paces, attitude and stamina was mixed with a wonderful temperament and competitive spirit. Endurance was a new exhillerating world and he was good, best of all -no fences! He would ride anywhere with anyone and anything, dressage, western, spins and rollbacks etc great fun, so generous and never a "bad " day, a real gentleman.

Not long after Ginha had shown his worth Alan suggested buying a purebred mare to breed,- wonderful opportunities for painting inspiration!
After 2 years waiting for the extra land we would need, we started looking, researching, visiting studs and shows and avidly studying Arabian World and AHS mags. Our 1st Malvern was so special and then Towerlands, well I spent the 2 days in tears. All, but especially the stallions, were just too beautiful. Alan was hooked and that was it , but now we had to try and find the best we could afford.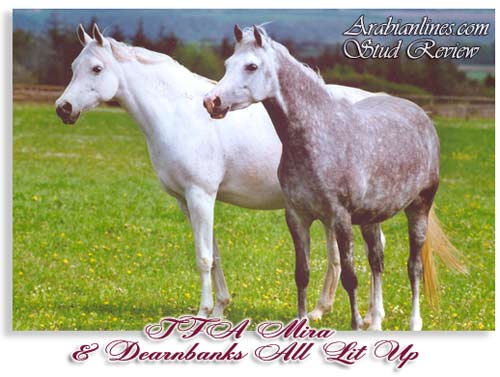 In 1999 our first aquisition was TFA Mira, then Mira`s mum , Beat due to foal in 2 months to Cas Sabur - our first introduction to foaling. Within that 1st year we owned 6 purebreds including a weanling filly who was the last ever breeding to Camargue, out of a double El Shaklan daughter! We also aquired a young colt to be our foundation Stallion by Ibn Narav ,bred by Sax Arabians, who was Res Jnr. Champion at UKIAHS. Tragically we lost him in a freak accident 6 wks after getting him home and felt the terrible heartbreak of owning horses for the first time.

2000 saw 2 new additions Mareen, a stunning metallic bay yearling colt bred by Reinhard Sax ( Menes/Kubinec lines) and a Vympel weanling colt. We were now in the thick of deciding our future breedings and learning the show scene .It was all a very fast and steep learning curve!

2001 Saw Mario Gallagher produce our Camargue filly Judals Jualifah (who`s full sister had been Jnr Female Champion at Malvern the year before ) She was Jnr female Champion at NGAHS and the Classic, and Mareen, Jnr Male Champion-almost Supreme but he got a power surge and hurdled the arena barrier and was"dismissed". He was also a creditable 4th at Merrist Wood and UKIAHS. and was always second to Ora El Masri.We also had our first foal crop---4 colts and 1 filly.

BUT another year of tragedy - we lost our lovely Camargue filly and a new addition, a yearling filly by Aristin, 2 days after returning home after their show season from some mystery virus. We still weep for her.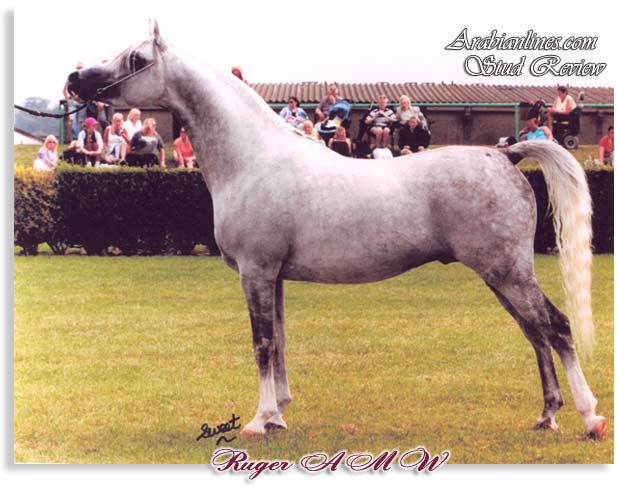 Photo By Sweet
With the fantastic help and advice from Mick and Angela of A&M Arabians ( who are based only 20 mins away) they sourced several new potential additions from the States. After many Videos and research we aquired Rohara Faberge (by Padron Psyche) from Rohara Arabians/Florida and Kkiss of Gold (Legacy of Goldx Kkissandra- both US National Champions ) and put them both in foal to Magnum Psyche before importing them.

We also fell in love with 4 year old Ruger AMW, whose impressive Ali Jamaal egyptian lines with equally impressive Muscat Russian Dam line and his own very successful show career made him our potential foundation Stallion. He arrived in July and after recovering from a long trip from America we covered our first mare Beat, she took first time!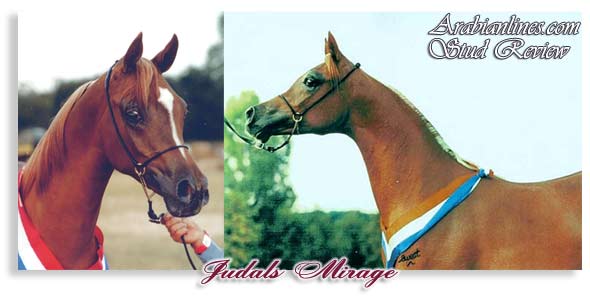 Photo By Sweet
TFA Mira came back from her 2nd suitor that season and again Not in foal! Even though it was now September she was still cycling with a vengeance, we managed our first unassisted covering and Mira took first time too -fantastic as for 3 seasons she had failed to hold. The Result was Mirage, born 18th August 2002 and he won Jnr. Male British National Championship 1st time out anywhere, then UKIAHS, (unanimously) and then became an Elite colt making the Top Ten in the Paris World Championships, the youngest horse there by 2 months and still getting the 6th highest marks in the whole show for type and head and neck.
Photo By Sweet

Photo By Sweet

Photo By Suzanne
Wow! What a year for us 2003.

With Mario Gallagher`s expert training and production, Ruger`s filly out of Beat also won the Honours and surpassed her dad being Overall Supreme at the NGAHS while Ruger was Overall Champion Stallion and Res Res Overall Supreme. Halleja won the Mare Championship we got two 2nds and two 4ths with mares and foals and Mareen was Jnr Male Champion.

Ruger was also Overall supreme at the Classic, where Judals Magnum Gold was Res Jnr Male Champion, Rohara Faberge was Mare Champion, our Halleja was Res res Mare Champion and Judals Berugia was 2nd to the Res Overall Supreme Filly that we produced from Judal, as well as the Res Mare Ch.

Not only did Mirage win at the Nationals but Halleja and Faberge were pulled in 1st and 2nd in Jnr.Mares. In the final line up Faberge was 1st. as in the previous year 02, Mare with weaned foal, Halleja 2nd. KKiss of Gold again (as previous year 02) won Jnr mares with foal at foot. If Jackie Ware`s lovely mares Shaklina and Asali had been absent, we would have had the Top three mares as Champions -instead of just Faberge as Res. res Ch.
Photo By Sweet

Towerlands also saw Judals Berugia 4th / silver medal , Faberge 3rd/silver and KKiss 7th. Ruger AMW was Jnr, Stallion CH and went on to be Res res Overall Stallion Champion. We had a wonderful Year with 25 Championships from 7 shows.



2004 has seen Mirage Supreme at Hocon and 2nds for Ruger`s fillies, Mareen's colt a great 2nd and 3rd, Magnum res res Jnr male at Midland while Ruger`s filly out of A&M Arabians Lovely mare Helawi, was Foal Ch at N.G.A.H.S. and our 5 foals,all fillies are growing-well. Ruger was busy covering, by chilled and frozen semen, as well as naturally. 15 foals due this year and if the % remains the same??? at least 10 will be fillies!

Before Ruger begins his ridden career ( already a lovely ride), he and Mirage will hopefully go to Europe and Paris together. For now we just hope all will foal easily and happily.

We adore all our horses, each have their own special qualities and the thought of having to sell a youngster is hard to bear, a new foal has already been in our hearts and minds even before the mare has been covered! We try to compliment and improve each individual mares best qualities and minimise the faults, choosing the Stallion now has to be based on thorough knowledge of his conformation, progeny and bloodlines and that special instinct/gut feeling too.

That something very special can defy the most precise planning .I have to admit that Alan`s flair for picking the best pairings and has been proven in other breeding situations as well as with our horses. We are so fortunate that our dreams are working out for the better, and we have the wonderful Ruger AMW, who has produced with his very first 2 foals an Overall Supreme CH Filly and a yearling colt who won BN CH, UK Int. CH and Elite TOP Ten at the Worlds. which drives us on helping create the most aesthetically beautiful arabian horses with grace, powerful movement and correct conformation, easy temperaments and the ability to excel in any equestrian discipline. Now we need to choose outside stallions for our Ruger girls.So many incredible potential husbands.

Marwan Al Shaqab, for us, epitomises Arabian Type, is almost too beautiful, the perfect painting come to life.

Om El Extreme, again movement and type with unerring correctness, the Fabulous Eternity Ibn Navaronne and Ecaho fascinates.

Showing our horses to the "world" is the best stage for promoting our Stud and Stock . In an Ideal world we would have enough fair and knowledgable/ experienced judges to use the International 3/5 judge system at even `C` Shows rather than tolerate Individual`s biased opinions of what is their ideal Arabian horse and disassociate from the faces of the handlers. Raising and showing Arabian Horses is a costly and dedicated way of life and those little Red Ribbons are dearer than diamonds.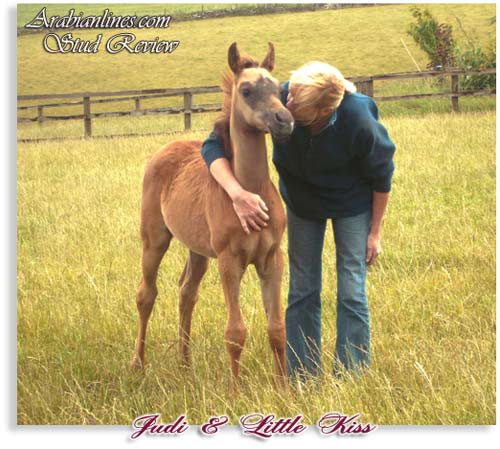 Sometimes I feel those who keep, produce and share their horses could do with more recognition and appreciation and not be expected to just keep on paying out. Those rare experienced Arabian devotees who freely give their time and energy to producing those shows are to be admired and commended and certainly rewarded with thanks and co-operation from all sides.

Sadly, I cannot see any of our 5 children or 11 grandchildren continuing our passion-yet!. So we continue with this addiction and attempt to create our ideal and promote the multi talented and so adaptable arabians before time catches up with us.!!!!!!!!

Judi Kent Pyrah & Alan M Hunt
The Peasantry, Scawton, Thirsk, N Yorks.
Tel: 01845 597287 Email : judalarabs@aol.com