1985 World Champion Stallion *Carmargue returned to Mt. Olympus from his home in England this past June at age 25. It was an agonizing passing for all who knew and loved the stallion who was so easily imagined as 'the fairytale horse, the legend winged horse come to life' Of a rare and exotic beauty, he looked like an artist's rendition of Pegasus embodied in the perfect Arabian-certainly the enchanted fairytale horse the prince rode to awaken Sleeping Beauty. Standing just over 15 hands with a high set on neck, perfectly balanced body, tremendous hip and nearly flawless legs, the most striking feature of *Carmargue was his incredible head. In his presence one could only envision other magically spellbound worlds. Confronted by his huge soft brown eyes that radiated pure love-people would break down and cry for the sheer joy of seeing a creature so beautiful. No photograph ever captured the magic that was *Carmargue.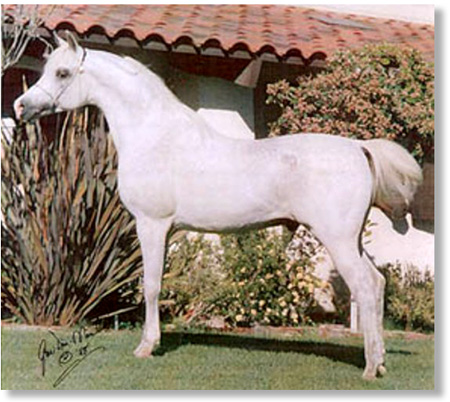 Photo © Gari Dill-Marlow
For breeders, *Carmargue was perhaps the most important Arabian stallion in the last 46 years as he brought a unique new sire line to Skowronek- for decades the leading sire line of US National halter winners. Since the first official US Nationals in 1958 the leading halter sire winners were Skowronek, Kuhailan Haifi, Nazeer, and Mirage. From that time and before, all Skowronek's major US winners came via his sons *Raffles, *Raseyn and Naseem whose grandson and great-grandsons proved so popular. Thus *Carmargue was the introduction of a new sire line to Skowronek via his son Naziri, said by all whoever saw him to be the most beautiful son of Skowronek to ever have lived. Despite being a full brother to Naseem, Naziri was far more alluringly beautiful and refined and those looks were passed to his offspring all of which were said to have had an unusual, nearly ethereal elegance rarely encountered. In her 1938 stud ad Lady Wentworth described Naziri as "The most perfect Arabian stallion alive!" (bearing in mind that all the most prominent Skowronek sons were alive-never mind Nasik and other equally famous Crabbet stallions!). In an interview with the "The Illustrated Sporting and Dramatic News" on 31st of July 1936 she was emphatic that, "…. no money on earth would have bought the fine Arab Stallion, Naziri…….." (she had recently sold horses to Russia and Spain)
But it was Cecil Covey in his last formal interview in 1984, who drove home the critical importance of *Carmargue. Covey noted that Naziri was regarded by all that knew him "….as the most beautiful Skowronek son-ever." Covey went on and said, "*Carmargue is a ringer for Naziri with a slightly improved hip and topline and with an incredibly kind disposition (Naziri like *Mirage could be quite lively whilst *Carmargue had a more Bright Shadow like disposition!").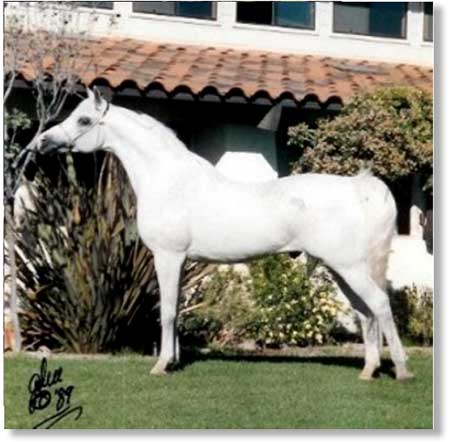 Photo © Gari Dill-Marlow
" Naziri was so treasured that Lady Wentworth was terrified of something happening to him so she would not allow him off the Crabbet property." Despite all the precautions Naziri was killed at the outset of WWII and had sired only 6 foals-5 fillies and one colt, whose blood was comparatively unavailable until Burkan was acquired by Patrica Lindsay. Thus it was the Naziri grandson, by the Guiness family's (Lord and Lady Moyne) Saladin II, Burkan, who sired White Lightning – the sire of *Carmargue bred by Glyn and Joyce Greenwood.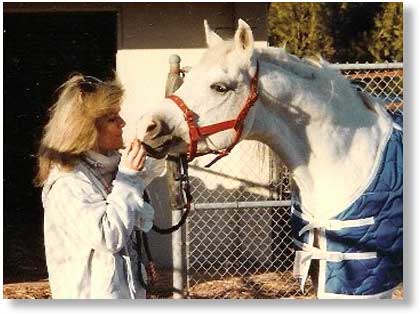 Photo © Gari Dill-Marlow
*Carmargue in quarantine in the US
On the other side of *Carmargue's pedigree, his dam, Velvet Shadow was by Bey Shadow by Bright Shadow. Bright Shadow's dam, Pale Shadow was out of Shamnar, also by Naziri. Thus both sides of *Carmargue's pedigree carried the prepotent though distant Naziri blood. It is that soft ethereal beauty and look that so frequently occurs in the Naziri descendants via *Carmargue that makes him so extra special. (Note three other prominent Arabians carry double Naziri though not on the sire line: *Padron, Count Dorsaz and *Rushan AHSB!)
Photo © Gari Dill-Marlow
*Carmargue at home in Yorkshire circa '92 & with breeder Joyce Greenwood and owner Mary Prothero
Suffice it to say, when it was discovered that there was such a stunningly beautiful horse who brought a new line to the most internationally successful sire line of the 20th century, breeders around the world lined up to try to acquire *Carmargue first from his breeders the Greenwoods and then later from Alun and Mary Prothero- the Greenwood's good friends who got *Cam when Mr. Greenwood became critically ill.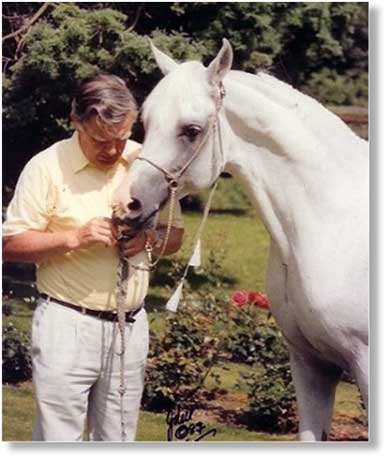 Photo © Gari Dill-Marlow
*Carmargue with his beloved Alun patiently waiting for a polo mint!
When a purchase proved unsuccessful, first Diego Mendez, then Om El Arab, International and finally Paolo Gucci leased *Carmargue and his sons and daughters have been snapped up as quickly as they were offered for sale. Around the world such important breeding establishments as Halsdon Arabians, Om El Arab International, Martenssons Arabians, La Aldara, Ses Planes, Redwood Lodge, and the leading studs in Saudi Arabia, South America, South Africa and Kuwait boast the blood of *Carmargue!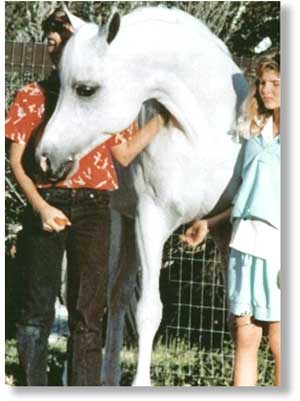 Photo © Gari Dill-Marlow
Here he is at Om El Arab with Ben Merz and Shannon Constanti
When first seen *Carmargue was said to be in the words of international trainer, judge and breeder, Paul Atkinson, "……………all that was best in his full brothers and sisters!" Quite a compliment as all, or nearly all *Carmargue's brothers and sisters were champions in their own right and even had some international success. But none had the impact of *Carmargue. In fact it could be argued *Carmargue was a genetic freak….an extraordinarily beautiful horse who not only stunned crowds in the show ring but was equally successful in the breeding barn. He never sired a chestnut-only grays and bays. His grays like sons and International winners WSA Charismma, Arazi, Om El Abadan and Ali Khamsin are stunning, turning nearly white by the time they were three and they all had an almost eerily ethereal quality of elegance and kindness. The bays were as stunning but took much longer to mature into the beauties that the gray siblings enjoyed ….but oh what beauties they were and are. For example the kindly *Carmagnole was often thought to be a small horse…until he was 7 and measured just at 16 hands with shoes! More importantly, like the Skowronek sons of old, the *Carmargue grandget are proving equally as important. For example the Australian bred Junior World Champion Espano Estopa is making a significant impact in Europe now.
| | |
| --- | --- |
| Photo © Gari Dill-Marlow With Gari in the US '88 | The most important thing to remember about *Carmargue was what perhaps made him so successful, was that he was so incredibly kind. He emitted a warmth, gentleness and kindness that was simply unparalleled. To know *Carmargue was to know love and he passed that sweetness to all of his sons and daughters. He was truly a miracle and blessing to Arabdom and so remember: The next time you see an Arabian who looks like a fairytale come to life-check the pedigree. It is probably a *Carmargue. |
Some of *Carmargue's most famous sons and daughters:

TAS Fascination-British National Champion Filly ( grand - daughter )

Om El Shaina-dam of multiple champions and national Champions

Rawalpyndi-Spanish National Champion and sire of multiple international and national Champions

WSA Charismma-International Champion and sire of multiple champions

Om El Abadan-Australian National Champion and Reserve World Champion sire of a World Champion

Ali Khamsin-British National Champion