Artwork & Design By Arabianlines
( Original HTobago Photo: Erwin Escher )

Tobago Update - Latest News
Beginner's Luck

Talk about 'beginner's luck'! I must be the luckiest total novice Arab-breeder on the planet! Actually I can't even call myself a breeder, as I only have one horse.

But what a horse! When I finally persuaded the Gamlins to let me buy their precious multi-champion 2yo H Tobago in May 2006, I was worried that they would regret selling him to me, as I was just a little one-horse newbie nobody with no mares for this stunning colt to prove his abilities as a sire


Artwork & Design By Arabianlines ( Original HTobago Photo: Erwin Escher )

Anxious not to disappoint his former owners, I advertised Tobago at stud in 2007, hoping to get a few nice mares, but acutely conscious of the fact that most breeders prefer to use proven sires – and that a first-season baby, however beautiful and well-bred and successful in the show ring, might well not get enough mares to prove himself.

But to my delight and amazement, the enquiries immediately started flooding in! Breeders were falling over themselves to send mares to my unproven baby! In the end, Tobago had well over 20 mares booked to him for his first season, including some very well known show winners. (A few later had to postpone till 2008, due to late foaling and other complications, but I am told this is still an unheard number for a first-season Arabian stallion.)

And he was in demand in Europe! The well-known Belgian stud Fantasiaa Arabians – home of many famous international champions – bred three of their very best mares to Tobago by frozen AI including their top mare DA Fiestaa (dam of their international champion stallion MB Capritzioo) and MB Fantasiaa, after whom the stud is named.

Back in January, when Twemlows (Stallion AI Services) asked me if I wanted them to collect and freeze semen from Tobago for the UK only, or for both the UK and Europe, I hesitated, thinking it might be rather over-optimistic, even presumptuous, to go for Europe as well. But then I decided I might as well, just in case maybe sometime in the future a European breeder might want to use him. Within an hour of my mentioning on a website that Tobago was now available in Europe, Fantasiaa had contacted me to book their mares. And he now has yet more European mares booked for 2008.

In fact, his 2008 book is already (in December) overflowing, with about 25 already booked, again including some fabulous show champions, and more enquiries coming in all the time...


Artwork & Design By Arabianlines ( Original Photo: Erwin Escher )

I have to admit that I can take absolutely no credit for any of this. Some people think that Tobago is getting this crazy number of mares because I spent a lot of money advertising him. This is simply not true. Over 90% of the breeders who are using him had already seen him at shows and decided to breed to him long before I ever placed a single ad. Some had been waiting to use him since they first saw him as a yearling. My ads merely let them know that he was available, and gave them my contact details.

Nor can I claim any credit for 'discovering' Tobago. He was already an international champion when I first saw him, and I went to see him on the advice of an expert and experienced breeder. All I did was to fall in love at first sight (a bit of a no-brainer, to be honest, as any fool could see how lovely he is) and refuse to take no for an answer when I was told at least 15 times that he was Not For Sale!

Liz Salmon Evaluation


The international judge, consultant and renowned authority on Arabian horses, Liz Salmon, does professional evaluations of Arabs for insurance, breeding, purchases, court cases, etc. She saw Tobago at Malvern and loved him, and she has recently very kindly done an official evaluation of Tobago for me. Here is her conclusion:

" In my opinion this is an outstanding, typey young stallion with great conformation, movement and presence, who could win anywhere in the world. He has already proved himself in the show ring, and should now prove himself as a sire."

In her evaluation, Liz commented particularly on Tobago's "very typey, short head" with its "large, well-set eyes", "good dish and large cheeks" and "small muzzle with large nostrils". She also praised his "correct" limbs, his "long, well-set neck", the "good angulation" of his shoulder, his "deep heart girth" - and his "excellent topline" with "good length of hip", "level croup" and "well set and very well carried tail". Above all, she loved his "outstanding free movement and presence"!

She has even put Tobago on her own website, in her special list of personally recommended breeding stallions from around the world - a very big honour for such a young stallion. It would be hard to find a more reliable or prestigious endorsement than this.

Tobago Goes Global!

When I was told that Tobago would be prominently featured in the big US/International magazine Arabian Horse World, in their main editorial feature, written by the illustrious Gari Dill-Marlow (our guru 'Egbert' here on Arabian Lines), I had another decision to make. Should I put an ad in the magazine? And should I therefore send Tobago back to Twemlows to be collected for US/Worldwide frozen semen, to add the to UK/Europe collections? Again worried that this might seem over-ambitious, I consulted Gari, who persuaded me to go ahead. She even offered me this quote to use in my ads:

" A great breeding stallion must have a great pedigree. H Tobago's bloodlines bring together a century of legends: the icing is that this blood is magnificently manifested in Tobago - no wonder so many astute breeders are using this beautiful young stallion!"

With endorsement and encouragement from two of the world's leading authorities on Arabian breeding, how could I hesitate? So - from 2008, Tobago will be available worldwide by frozen semen!

A RISING STAR
H Tobago (Psytadel** x Teeba) was bred by Claire and George Chillingworth, but they didn't get to keep him for very long! He was spotted and immediately purchased as a foal in 2004 by the leading international judges and show trainers Peter and Mark Gamlin, who bought him in partnership with two other breeders. The Gamlins' connection with Tobago goes back further than this, however, as it was Mark who originally had the inspired idea of breeding his dam, Teeba, to Psytadel**.

In spring 2006, I finally came out of a thirteen-year mourning for my first horse, the Crabbet stallion General Lee Gold, and set out to find my ideal Arab colt – with help and expert advice from an experienced breeder, Jane Kadri of the Al Waha stud, who strongly recommended H Tobago. When I first asked the Gamlins if I could come and see him, however, I was told very firmly that he was not for sale. I managed to arrange a visit 'just to look', but when this beautiful metallic-copper colt was led out of his stable, I knew immediately that he was The One. It took me some time, and rather a lot of shameless begging and pleading, to persuade the Gamlins to let me buy him. I think they realized that they would know no peace until they agreed.

In addition to the all-important retained breedings (including one for their British National Champion mare Nouvelle), and proof that I would give him a 5-star home, the Gamlins sold Tobago to me only on condition that they be allowed to keep, train and show him – at no charge to me – for the 2006 show season. There was nothing in this for them financially (quite the opposite), but they just love Tobago and could not bear to part with him so soon. It is so nice to know that top professional trainers can be just as emotionally attached to their horses as any besotted one-horse owner!

It is not hard to see why they wanted to keep him, and why I fell in love at first sight. Tobago is an elegant, correct and very typey young stallion, with an exceptionally pretty dished face, excellent conformation, charismatic presence and spectacular, elevated movement. Perhaps even more important, his sweet nature and charming, playful, affectionate character endear him to everyone who knows him.


Photo: Erwin Escher


Shown with Mark's typical gentle kindness, and proving that neither fear nor artificial 'hyping' are necessary to succeed in the show ring, Tobago was Champion at Merrist Wood International 'B' show and Reserve Champion at Wales and West International 'C' Show as a yearling, then as a 2-year-old Reserve Champion at Devon County 'C' show, Reserve Best 2yo Colt at the British National Championships – and won a Gold Medal at UKIAHS Towerlands International 'A' show, tying for 1st place on points with the international multi-champion Mahrabi – with a score of 91.3.

In The Arabian Magazine, Liz Salmon described Tobago as "powerful, typey, good-moving" and Alexia Ross called him a "stunning young stallion", and in the Arab Horse Society Yearbook, Betty Finke marked him as "definitely [a colt] to watch". Arabian Horse World called him an "exotic international champion". The final accolade this year came from the well-known Belgian champion breeder Nancy Lacoste, who simply said "I am breeding all my best mares to the exotic and athletic H Tobago!"

Tobago has the world-class pedigree to ensure that his stunning looks and movement are passed on. His sire Psytadel** (Padrons Psyche*** x Bint Bey Shah) needs no introduction, being one of the world's top sires of show horses, whose offspring dominate the European show rings. Psytadel** combines the now legendary Padron***, Padrons Psyche*** and Bey Shah+, probably the most influential show sires of all time.


Photo: Caroline Johnson

RESULTS
Champion at Merrist Wood International 'B' show 2005
Reserve Champion at Wales and West International 'C' Show 2005
Reserve Champion at Devon County 'C' show 2006
Reserve Best 2yo Colt at the British National Championships, Malvern 2006
'Gold Medal' (tied for 1st place on points – scoring 91.3) at UKIAHS 2006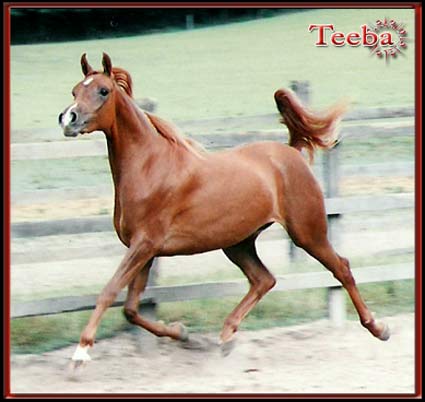 It is his dam-line, however, that makes Tobago really special. Tobago's dam Teeba, bred by Jane Kadri and bought as a foundation mare by Claire Chillingworth, is a multi-champion in hand, whose results include two wins at the British Nationals, Supreme Champion at HoCon, Reserve Supreme Champion at Wessex, Reserve Supreme Champion at NWRG, and a Gold Medal at UKIAHS, with 5x20 for movement.

Teeba is by the superb Russian sire Gonorar (Menes x Mastika), a Classic-winning racehorse, then in-hand British National Supreme Champion and UK-International Champion, famous for his breathtaking movement. Her dam is the renowned Crabbet/Old English beauty Queens Topaz (Midnight Gold x Dancing Queen), all of whose many offspring have been major show champions, winning both in hand and under saddle. Dancing Queen is a legend in her own right, a Princess Muna winner and dam of many champions. In her AHS Yearbook report on Malvern 2006, Betty Finke commented on Tobago's 'strong dam line', adding that he was 'instantly recognizable as a representative of Dancing Queen's family'. She could not have paid him a greater compliment!



Padron***
Padrons Psyche***
Kilika

Psytadel**

Bey Shah+
Bint Bey Shah
Musks Angel Eyes

H TOBAGO

Menes
Gonorar
Mastika

Teeba

Midnight Gold
Queens Topaz
Dancing Queen

But I have to say that I bought Tobago as much for his athletic 'uphill' conformation as for his exotic beauty and star-studded pedigree. In May 2006, as a baby 2yo, Tobago passed a full, 5-stage, sport-horse vetting (including 22 x-rays) with flying colours – the vet even rang me to say how lovely he is, and that she could not find a single flaw in his conformation or action, despite trying very hard.

This year, alongside his stud duties, Tobago will also be professionally backed and started gently under saddle, with a view to a future dressage career, as I firmly believe that Arabs, especially the pretty in-hand winners, should get out there and prove themselves in open competition against other breeds. A professional dressage rider is very keen to have Tobago to bring on and compete, so this may be the next step. But he is still only 3, so we don't want to rush things.

Tobago stands at the beautiful Cliveden Stud in Berkshire (where the Derby winner Reference Point was bred), and is available to a few approved mares, by AI only (frozen, chilled or fresh). Tobago is 'Tested SCID Clear'

I am delighted by Tobago's huge popularity at stud, of course, but Tobago is my friend, not a business. He is my only horse, my dream horse, and I can still hardly believe that he is really mine! I am happy to have found him a super home at Cliveden Stud, where he is a great favourite with all the staff, as he is so sweet, funny and affectionate.

Tobago's stud fee for 2008 is by private treaty. As I have said before, I am not in this for the money, and I offer very generous concessions to a few special mares. I have no mares of my own, and therefore cannot follow the traditional practice of 'proving' my stallion at home before standing him at public stud. So this is a chance for a few more astute breeders to use a rising star – a stunning international champion, with world-class bloodlines – at a bargain price.

For now, I would just like to say thank-you to the Gamlins, again, for allowing me to buy their very precious and much-loved Tobago.



KATE FOX

Tel: +44 (0)7710 416498

Email: kate@sirc.org