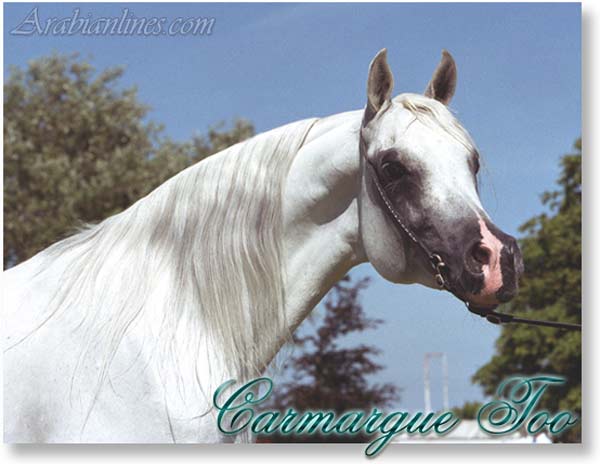 Photo By Sweet
The Carmargue Family
( By June Greenwood )

The Carmargue family story doesn't in my opinion really begin with his birth.

It began nearly 2 decades earlier round about the time of the beginning of Souter House Arabians, with a little mare called Nasim ( Jair x Nasam) bred by Thriplow Farms Ltd.

The other half of the story involves a great big powerful bay stallion of Crabbet descent Bey Shadow (Bright Shadow x Farrette) my mothers pride and joy bought as a yearling from the Arrowsmith-Browns by my father as a Christmas present for her.

What a lovely surprise eh?


Joyce & Bey Shadow
Nasim (By Joyce Greenwood)

"Some years ago in the late 80's an eminent Arabian judge wrote a piece about our little mare Nasim. It hardly did her justice and was not in fact correct. Nasim produced for Glynne and myself five Bey Shadow fillies :- Spring Shadow, Shasim, Velvet Shadow, Autumn Shadow and Crystal Shadow and one colt Bey Babu.



Then when put to White Lightning she produced White Angel a good prize winner, and of course the most beautiful White Lace many times Champion herself and dam of a string of champions by our stallion Shahir (Haroun x Sherrara) including 1984 Brit Nat Champ Mare Shahlie, and our own Multi Champ Avalanche….

Nasim was a tiny mare standing only 13:3hh and was only shown once, by myself at the Royal Lancs show where she was placed second to the beautiful Donatella. Not bad for an 18yr old mare at her first show.
In her lifetime she produced 14 fillies and 2 colts. WHAT A MARE !!"

Haydock Park Arab Show in 1984 Photo By Sweet

So whichever way the story unfolds from Nasim, you will find another National Champion. Her daughter the beautiful 'White Lace' gave birth to 'BNC Shahlie'. The lovely 'Crystal Shadow is the dam of the wonderful 'BNC Mustapha'.
Then we have the wonderous Velvet Shadow mother of Carmargue. But more to the point although Carmargue was and always will be one on his own, he is part of a family of successful crosses of Velvet Shadow to White Lightning.
In fact Velvet Shadow had a total of 11 foals to White Lightning all grey… There were 8 colts and only 3 fillies.

But oh! What show girls the 3 fillies were!

| | | |
| --- | --- | --- |
| They were :- | Ermine Shadow | Res Brit Nat Champ |
| | Lilac Shadow | Brit Nat Champ |
| | White Velvet | National Show Winner |


The Colts just pushed that bit further, the best known ones being :-



Of Course
1985 World Champion Senior Stallion
Carmargue
1982 Res World Champion Stallion
Rostam
Multi in-hand Champions
Lightning Shadow and Shapur.
Other prizewinners included :-
White Cascade, Diadar, Darab and last but not least Mehrab.

So who actually new that Carmargue had a brother who was a Res World Champ when Carmargue was still a young pup.


Carmargue's Legend Continues on through Carmargue Too:




Photo By Real Time Imaging

Carmargue Too is the most successful Carmargue son in the country today. Some of his wins to date include Res Brit Nat Champion 1999
Gold medal winner at Towerlands and top 10 in Aachen in the class from hell.


Cammy has had a show career that spans some 10yrs so far and he is still winning. Not many stallions can stay around for that long and STILL mix it with the rest……



Burkan
White Lightning
Latawica

Carmargue

Bey Shadow
Velvet Shadow
Nasim

CAMARGUE TOO

Shahid
. Nasral
Nimet

Nasida

Bey Shadow
Peridar
Finidar

Winner stallions Cheshire county 5yrs in a row,champ 4 times and res the other. Unbeaten stallion at Great Yorkshire show 4yrs consecutive,champ 3times and res once.


He is also many times 'C' show Champion.

He is now going undersaddle and although only managed 2 shows this year he was Novice ridden Champ and Res Supreme ridden Champ at HOCON 'C' show, his only 'C' show outing…

But do look out for him next year as he WILL BE BACK in the ridden classes again with Joanne Woodward doing her usual excellent job…

He is a very spectacular stallion who oozes natural flair, this combined with his lovely sweet temperament make him an ideal choice as a sire. He passes all his attributes on to his babies they are unbelievable. Sensible, easy to handle, but with beauty and flair and most of all his excellent confirmation.

Below are a few winning photos.


Photo By Sweet
THE NORTHERN GROUP ANNUAL SHOW 12.08.2001
SENIOR MALE CHAMPION

THE NORTHERN GROUP SHOW 11.08.2002
SENIOR MALE CHAMPION & RESERVE PURE BRED IN HAND CHAMPION


Photo By Louise Graham
NEWARK & NOTTS SHOW 10th - 11th May 2003
1ST & RESERVE CHAMPION


STUD FEE ; £650 (Pure Bred Arabs)
Special price of £ 500 for all bookings taken before 31st Dec 04…….
£300 (A/A & Reg TB) £200 (all others)

All enquiries to:- June Greenwood
Tel:-01422 847074 Mob;- 07748 788181
e-mail:- souterhousearabians@btopenworld.com


© Southerhouse Arabians 2004