The story of Aazari starts many years ago with our purchase of Rasmara (Gaymet x Radsilla) from Audrey Paul. Rasmara was a Crabbet/Old English mare who was very correct with enormous movement and over the years she produced excellent foals; many winning in the show ring. Until her final foal, for us, Rasmara had had all boys. So imagine our delight when she produced a big, beautiful chestnut filly, Mareesah by Mareshal. Rasmara has since been sold to France and gone on to produce fine Endurance stock.
Lisa and I had always loved Carmargue and an opportunity arose to lease Arazi, a Carmargue son. Arazi is a very handsome stallion that anyone would want to own! He was British National Champion as a yearling, UK International Champion at two and a class winner at Aachen. Alun Prothero who bred Arazi also owned his dam First Blush, by Sanadik el Shaklan. Lisa and I had fallen in love with Blush on a visit to Aluns. We were smitten with Arazi and jumped at the chance to lease him.
We decided that Mareesah was the ideal choice for breeding to Arazi and were very excited when she tested in foal. Her foal, Aazari arrived unexpectedly early at about 11.00 am on 23rd March 1998 when Mareesah was grazing in the field. She wasn't due and didn't even have a bag and seemed very surprised by the event, as we were. She didn't know what to make of him! Unfortunately, we very soon realised that she was becoming antagonistic towards him and as he struggled to stand she began to kick him. Lisa and I caught her and led them both into a stable.
| | |
| --- | --- |
| | The next four days went by in a blur as Lisa and I took turns staying in the stable, trying to get Mareesah to accept him. We enlisted the help of Joanna Vardon at the Foaling Bank who despite her best efforts could not find a foster mother for him. We tried every remedy she suggested but eventually had to separate mother and son as Mareesah was still not showing any signs of maternal instincts and every time he wanted to feed we had to protect him from her. By this time, we were so tired and just could not cope with the situation any longer. |
Aazari accepted us as his new 'Mums'. Things went well and feeding according to plan after we solved problems with swollen joints which were rectified by halving the recommended amount of milk powder. Our brood mare, Roxhalia, who adored foals, came to our assistance and provided all the love and companionship for the next ten months until he became too big and coltish.
When Aazari was about 5 months old he became very ill, running a high temperature with a rasping cough and was very listless. None of the usual antibiotics would clear it and eventually tests showed that he was suffering from a Rhodococcus infection. This is a bacterial infection which is not easy to diagnose and is uncommon in the UK. It causes abscesses in both the lungs and abdominal lymph nodes and can also cause ulceration of the bowel. No wonder the poor little lad was feeling so low. Treatment is difficult but in this case it eventually responded to a three month course of antibiotics normally prescribed for humans. Yet another stressful time! Many months and a 1500 pound vet's bill later he began to improve. Our vet, Chris Pearce was marvellous throughout this worrying time and without his expertise and dedication the result could have been a very sad and premature end to our lovely colt. By this time we were beginning to realise how very beautiful Aazari was and felt that if we could only get him well we may have something very special to show in 1999.
WHITE LIGHTNING
CAMARGUE
VELVET SHADOW

ARAZI

SANADIK EL SHAKLAN
FIRST BLUSH
PORT SURISSA

AAZARI

MILITAIRE
MARESCHAL
CHARMING SHADOWS

MAREESAH

GAYMET
RASMARA
RADSILLA
His very first show in 99 was the Wessex Spring Show and he thrilled us by becoming the Junior and Overall In Hand Champion. His next shows proved equally successful with 1st and 2nds and Championships throughout the year. The best moment of the year, for us, was his 1st placing at Malvern and Reserve Best yearling. He was shown during that year by my daughter and Emma Maxwell. All the successes we had that year and all the lovely comments from friends and acquaintances made all the worry and heartache we had encountered in the first few months of his life seem worthwhile.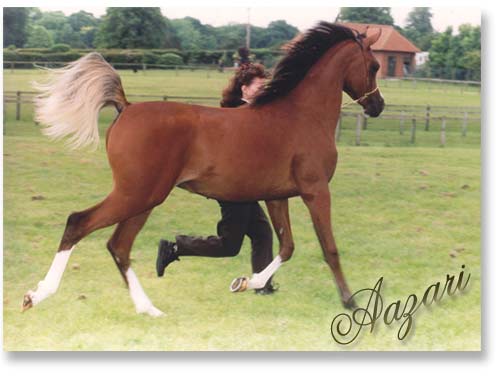 Photo By Pleasure Prints
Aazaria as a Yearling
From that time on Aazari has never looked back. We realised that we had to place him in the hands of a trainer who would not only be kind and loving to him, but bring the best out in him and also be able to run!!! Being hand reared he has only every known kindness and that could not change. We decided that the right person for him, if he would take him on would be Rod Jones. We were very fortunate because Rod said yes, and so his partnership with Rod started from that time and has never altered . They are a pair and people recognize them as such. Aazari is a very big moving stallion and Rod loves to run with him, they are poetry in motion together.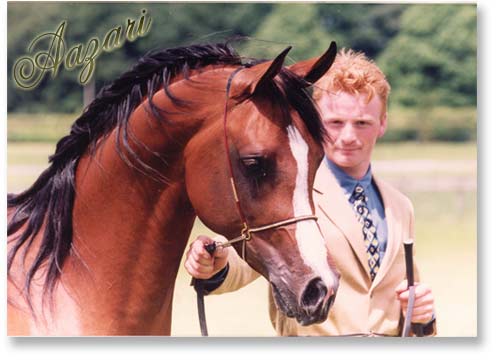 Photo By Pleasure Prints
Aazari & Rod Jones
The successes and Championships just increased. He has never been less than 1st at Malvern culminating in British National Champion at 4, which was a tremendous feeling for us and very emotional. He had also been Futurity Champion at 3. UK International Junior Champion at 3 and was UK International Senior Champion Reserve at Towerlands as a four year old. What else could he do for us. Full show results can be seen on our website www.reimorearabians.com.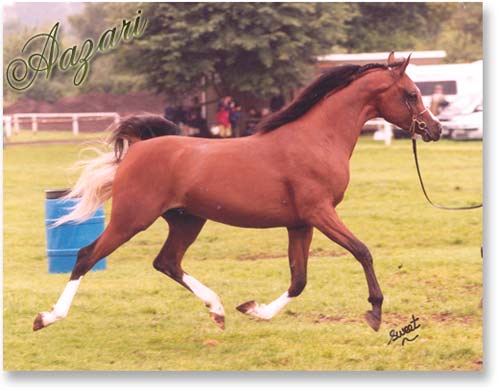 Photo By Sweet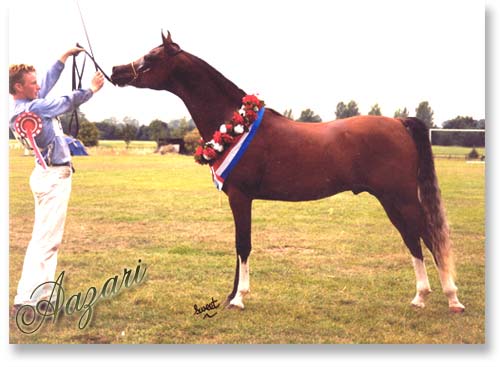 Photo By Sweet
Junior Male Champion Towerlands
He has not been shown since the age of four. We decided that his stud duties for the next few years must take president over showing. His first crop of foals, 5 in all, appeared on the show scene 2 years ago. All five were in the rosettes and so many comments came our way regarding how much they looked like their sire. Three of them were fillies, Aazaria, bred by ourselves, Aazadia and Rizaari bred by clients. They brought such joy this year when they won the Sire Produce Group for us and Aazari. How proud we were that day. So he could do something else for us.
Aazadia


Photo By Sweet
Rizaarri


Photo By Sweet
Aazaria
At 6 years old Aazari with his first crop of foals has won the Sir Produce Group . Is he the youngest stallion in England to have done this?
His foals this year are yet again beautiful. With studs such as Harwood Arabians, a very old established stud having a lovely colt by him. Sandpiper Arabians have a beautiful filly . In total this year he has had 5 fillies and 4 colts. We ourselves have 2 beautiful fillies Aazurra ex Dashan and Aazekah ex Bey Sheba. One of these fillies we will unfortunately have to sell., as numbers must be kept small at the moment due to other commitments.

AAZEKAH
Aazari x Bey Sheba


AAZURRA
Aazari x Dashan
Aazaria now aged two and owned by Sandy Lugrin although bred by ourselves pleased us all by being joint first at the UK International Towerlands this year. Both had 89.2 points, Aazaria being placed second as she had one less point for type.
Hugh and Michelle Segre of Phoenix Arabians have leased Aazari during the 2004 season having 16 mares tested in foal to him. Two of these mares are British National Champions , Jammillah by their own stallion Djammal owned by Jo Woodward and their own mare Pjatakova. Hugh and Michelle have asked to lease him again next year, which we have agreed to.
Aazari has proved to be a very prepotent stallion passing on himself, Betty Finke wrote of him in the AHS News:
"The yearling classes are always most interesting as they mark the debut of young sires, and this year was no exception. Besides Ruger AMW, other promising yearlings seen in the ribbons were by Kordelas, recent imports Ventican and Psyche's Spirit. The most remarkable debut, however, must have been that of last year's National Champion Stallion Aazari. Aazari, who descends from Carmargue and El Shaklan on his sire's side and from entirely Crabbet-Old English breeding on his dam's, is remarkable in himself in that he is a horse of very distinctive type and colour who does not resemble either of his parents at all. His entire first foal crop - two colts and three fillies - were at the Show, and the most striking aspect about these yearlings (apart from the fact that they were all in the ribbons) is that with just one exception, they resemble their sire so closely that they might have been cloned! The moment you saw one of them coming, even from a distance, you knew exactly who the sire had to be. It looks as if Aazari is one of those rare individuals (FS Bengali is another example to come to mind, also El Shaklan) who represent very much their own type and are capable of reproducing it as well."
Aazari is 72 per cent Crabbet something we are very proud of, with such wonderful sires as Bright Shadow, Dancing King, Fari II , Dargee and Skowronek to name but a few on the Crabbet side. Aazari can also boast the blood of the very prepotent stallions Carmargue , El Shaklan and Bask. How can he fail to be prepotent himself?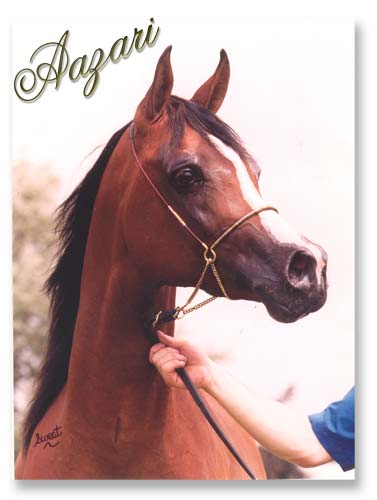 We have been asked many times when will he be shown again. He will be back, watch this space.....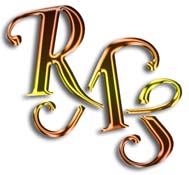 Reimore Arabian Stud.
Joan & Lisa Culnane.

Mrs Joan Culnane (Back in UK Dec 04)
9 Rani Close , Jamboree Heights , Brisbane
Queensland, Australia

Mrs Lisa Smith
The Warren, Birch Road, St Ives, Ringwood
Hampshire BH24 2DA England