Winner of the 7.30 The Hope To See You Soon Sally Graduation Stakes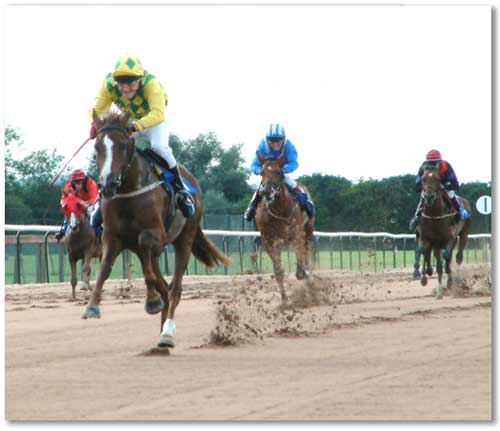 ARSENE RUPIN
one half of the deat heat in the 5.00 race!
EVENINGS REPORT IN BRIEF:
The Opening race at 5.00 saw a DEAD HEAT between CIRCUIT CHASER and ARSENE RUPIN. No one at the meeting recalled the last time a dead heat took place. This was a race for maiden Purebred Arabians 3 yr olds only, over 6 furlongs. The winners were spread across the track, but a dead heat was undoubtedly a fair result. CIRCUIT CHASER Owned and Trained by Mr W Smith, Ridden by Mr S A Walker, ARSENE RUPIN Owned by The Day in Toulouse Partnership, Trained by Miss G Ward and ridden by Mr S Harrison. Miss Ward thinks a lot of ARSENE RUPIN (FR) and expects better things to come.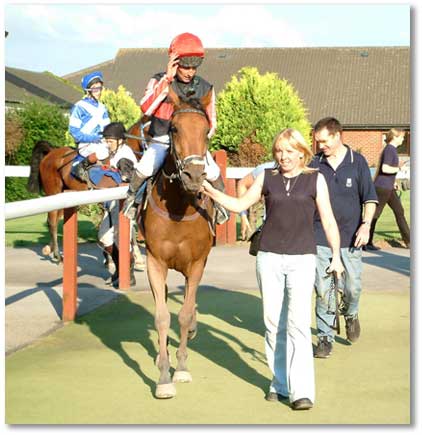 LILE D'AMOUR
Walking In after Winning 6.30 The Jebel Ali Racing Club Series Qualifier
The 5.30 was the first leg of a double for Mr P Brown, with CAL KARSAB, Owned by Mr K Muir and ridden by the trainer Mr P Brown, in the Town & Country Farms Novice Riders Handicap Stakes. The 3rd race at 7.00 saw a win for Mrs J Candlish, now training under rules, with ALMOST ALL, Ridden by Mr D T Weeks (who went on to record a double with INSPECTOR MORSE in the sixth race at 7.30)
LILE D'AMOUR took the Jebel Ali Racing Club (Series Qualifier) Handicap Stakes for the successful Mr & Mrs A Connally team. Lile D'Amour loves the all-weather surfaces and proved once again how much improvement she shows on the dirt, winning well under a fine ride from Champion Mr Simon Walker.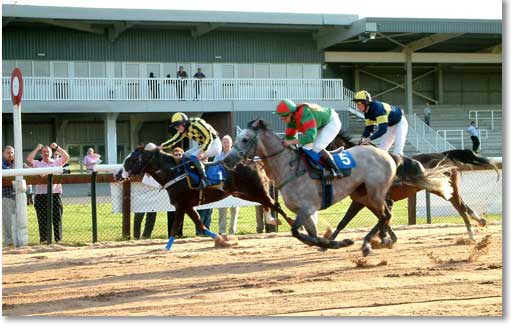 BENEDIKT
Winning 7.00 The Mikeno Handicap Stakes
BENEDIKT won The Mikeno Handicap Stakes (the second leg of a double for Mr P Brown) ridden by Miss J Buckley who held on in a driving finish to deny Mr D T Weeks another winner on WFA LEOPARD trained by Mr J A Candlish. A fine performance from BENEDIKT who has not stood a lot of racing in the past and had his last race at Chepstow on the 11th September 2003.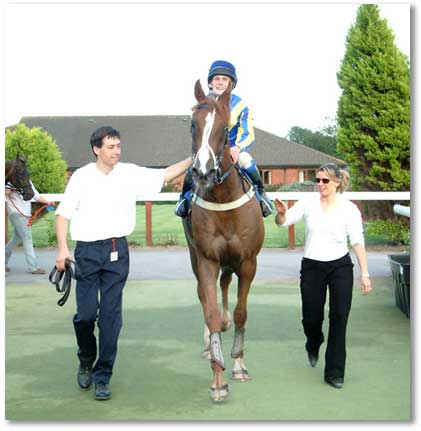 INSPECTOR MORSE
Walking In after Winning 7.30 The Hope To See You Soon Sally Graduation Stakes
INSPECTOR MORSE, well ridden by Mr D T Weeks, was a popular winner of The Hope To See You Soon Sally Graduation Stakes at 7.30 and this evergreen twelve year old was recording his second success of the season after winning at HEREFORD on the 19th June. The race was supported by the many well wishers of MRS SALLY WILSON who is recovering from a serious injury.

The last race of the evening was a two horse affair between DJELDOR DE BOZOULS (FR( trained by Mrs G M Duffield) and NEW CAPRICE (trained by Mr W M Smith). DJELDOR DE BOZOULS started favourite but was never at the races with NEW CAPRICE (ridden by Mr Sam Holdsworth - replacing Simon Walker who would have struggled to ride at 9st) who won with a deal in hand. DUBAI probably beckons for this HH Sheik Mohammed Bin R Al Maktoum owned five year old.