Photo & Report Jim & Chris Bielby
Racing Advertiser Ltd

EXETER 3rd JULY 2004
GOING: Good to Firm
WEATHER: Cloudy, sunny spells, showers.
The 3.00 race the JEBEL ALI Qualifier and the 3.30 the C M Cole Handicap Stakes.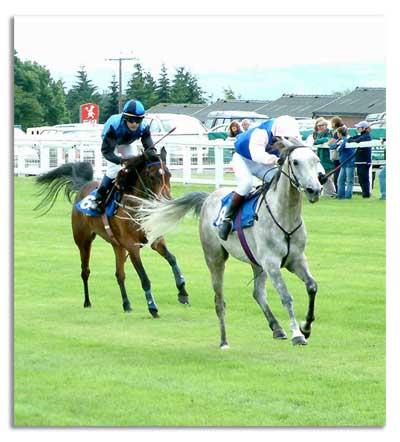 DAKOTA WILLOW
WINNING THE JEBEL ALI RACING CLUB (Qualifier)
---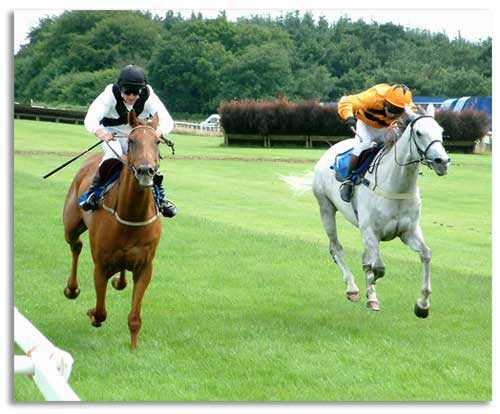 FAER SAOR

WINNING THE C M COLE HANDICAP STAKES
---
NOTES:
3.00 - DAKOTA WILLOW, Owned by Mr and Mrs K D Malpass, Trained by Mr K D Malpass, Ridden by Mr Sam Holdsworth.
3.30 - FAER SAOR, Owned by Mrs A M Batchelor, Trained by Mrs A M Batchelor, Ridden by Mr Simon Walker.

THE DAYS RACING:

DOUBLES FOR ALISON BATCHELOR, TONY BRUNTON, PIERRE DEYMONAZ and SIMON WALKER

FAER SAOR completed a first time double for local trainer Alison Batchelor who also won the first race, the Clarendon Stud Maiden Stakes with JELVITA, ridden by Miss E-J Jones. JELVITA, previously trained in France by G F Mikhalidesand, had run third at Wolverhampton on her UK Debut on the 22nd May but showed improvement at Exeter to win in good style. Another stable to have a double on the day was Tony Brunton, who won with CS AL WAHED in the opening race at 2.00 and CS CAMELLIA in the 4.00 race. Both horses were ridden by the stylish Mr Peirre Deymonaz who took his seasons total to 6 winners and keeps him in third position in the Jockeys Championship behind the present Champion, Mr Simon Walker, who also rode a double, riding FAER SAOR for Alison Batchelor and PAVOT AL KYLE - owned and trained by Mrs D Thomas, from Wales. Simon (Walker) is now leading the Jockeys Championship with 11 winners, but is being strongly pursued by Mr Phil Collington who has had a treble on both of the last two Saturdays, but drew a blank at Exeter, and remains on 9 winners. AL AASI, owned by Mrs J M Pierson, trained by Mrs A L Colledge and ridden by Mr Stephen Harrison, won the 4.30, the Mark Marriott Tribute Handicap Stakes.
DAKOTA WILLOW took the Series Qualifier for the Jebel Ali Racing Club Handicap Stakes, ridden by Mr Sam Holdsworth who was recording his third winner of the current season and trained by Mr K D Malpass from Kidderminster. This was a first win for the grey mare from eight outings but, now she has got her head in front, further improvement can be expected.