Photo & Report Jim & Chris Bielby
Racing Advertiser Ltd

STRATFORD
21st AUGUST 2004
---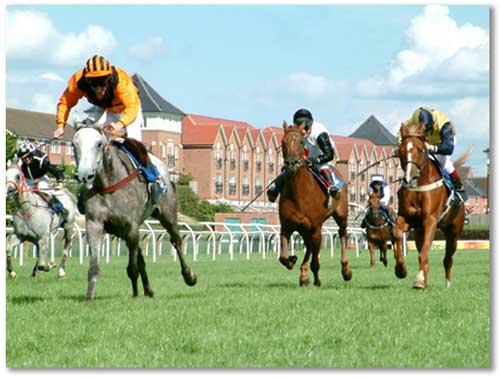 WA SAVANNAH

SUNRISE WINNING 3.00
---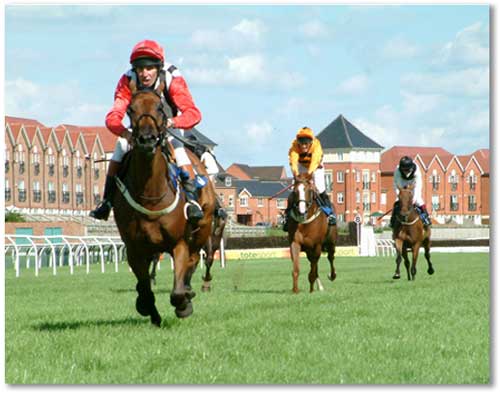 LA PERRUCHE
WINNING PENN WOOD (Qualifier) 3.30
---
MIDNITE DREAM
WINNING 5.00
---

BRIEF NEWS from STRATFORD:

LA PERRUCHE, WINNER OF THE PENN WOOD CHALLENGE (SERIES QUALIFIER) HANDICAP STAKES, was the first winner as a jockey for Owner, Trainer Mr P D Rondel. La Perruche has always promised to be above average and at Stratford he finally proved his undoubted ability by storming home in decisive fashion. Further improvement looks likely.

WA SAVANNAH SUNRISE, put up a game performance under Mr R G Woolard to win the JEBEL ALI RACING CLUB (SERIES QUALIFIER) at 3.00, Owned and Trained by Ms C Taylor.

MIDNITE DREAM, returned to his best for the Legg family, winning the MUCH ADO ABOUT NOTHING HANDICAP STAKES under a great ride from Mr David Turner, who knows how to get the best out of this consistent performer who needs plenty of encouragement to produce his best form on the day. A great frinale to a good days racing which saw VARONA win the Opening race at 2.00, Owned by H H Sheik Mohammed Bin R AL Maktoum, Trained by Mr W SMith and ridden by Mr SImon Walker.

The 2.30 was won by IBN AJWAAD (The second leg of a double for Simon Walker - Trained by Mrs N Van Dijk and Owned by Mrs M Young) in a driving finish from SA BIBI (ridden by Mr Gordon Farr), who looked the likely winner one furlong out and a triple dead heat for 4th place between KATELAND, MAIYZAH and JANA.

MACK THE KNIFE, owned by Mr G Cook and trained by Mrs A M Cook, is a promising individual and came good, after some disappointing runs - albeit in top class company - in the 4.00, ridden by Mr Phil Collington who is putting in a sterling challenge for the Jockeys Championship this season, currently in second place with 15 winners, behind the current Champion Mr Simon Walker who now heads the table with 19 winners.

Pierre Deymonaz won a trifle cleverly on the useful SHAHNGALI, trained by Tony Brunton for Owner, Ms T J Wright, in the 4.30 The Claydon Horse Exercisers Handicap Stakes, carrying top weight to victory, beating the ultra consistent WAYWARD FAERY, MERLIN DE CARRERE, KASPA and ALANYA in a 5 horse race.



Photo & Report Jim & Chris Bielby
Racing Advertiser Ltd.