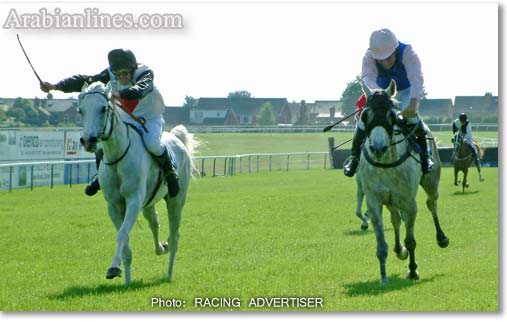 AQTAL WINNING 4A 5.00
---
REPORT:

A fine days racing at HEREFORD, despite blistering hot conditions.
Doubles were recorded by Trainer, Mrs Duffield and her stable jockey, Phil Collington, who won the opening race with MUTARASED and the fifth at 4.00 with DJEDOR DE BOZOULS (FR).

MUTARASED confirmed the promise shown on his debut run, winning well from the improving PENNY BLACK who is sure to hit winning form shortly for Mrs Jackie Hutchings.

DJEDOR DE BOZOULS (FR) had a simple task in the ABBEY DORE HANDICAP STAKES, beating his three rivals, as expected, with ease. It will be interesting to see where this top class individual goes next and whether he will be tried over a longer trip.

David Paton continued the good form of his stable and The BXPS Racing Partnership by winning the JEBEL ALI QUALIFIER at 3.30 with his consistent runner NOTID, who had only won one race previously in 24 starts, but showed himself to be tough and game with a close fought victory over FRENCH LIEUTENANT, and the closing race of the day, the CLARENDON STUD BANDED STAKES with AQTAL, both ridden by Mr Fred Offord.

Trainer, Mrs D Thomas and jockey, Mr R Cummings were another team to leave with a double after ROCHES DU CAYROU and AL MAMOON (UAE) won the third and sixth races respectively, The BRIGHTWELLS SELLING WINNER AT ASCOT SALES BANDED STAKES and the TOWN & COUNTRY FARMS NOVICE RIDERS HANDICAP STAKES (QUALIFIER). Both were ably assisted in the saddle by Mr R Cummings who would seem to have a bright future and, if he gets the rides, will be a strong contender to take the Town & Country Novice Riders Series 2005.

The second race of the day at 2.30, The WITHINGTON HANDICAP STAKES went to Mr Phil Rondel, who owned, trained and rode his talented mare LA PERRUCHE (FR) to a popular victory. Dificult to get to the start, LA PERRUCHE showed no such reluctance in the race and won well for her enthusiastic and dedicated rider, who received a well earned round of applause when riding into the winners enclosure.

David Turner still leads the jockeys table with 7 wins, but is now closely followed by Phil Collington who, with 6 winners, is now only one winner behind and Simon Walker who holds third position on 5 winners. After his double, Fred Offord is on 4 winners for the season.

FUN AT HEREFORD !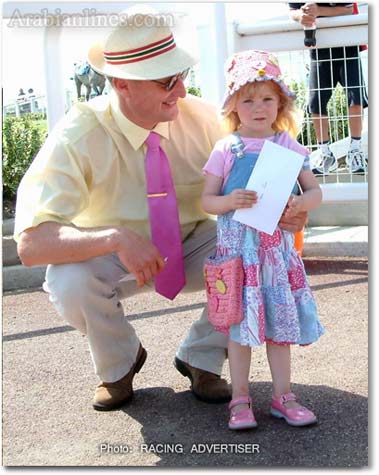 " WINNER BEST DRESS "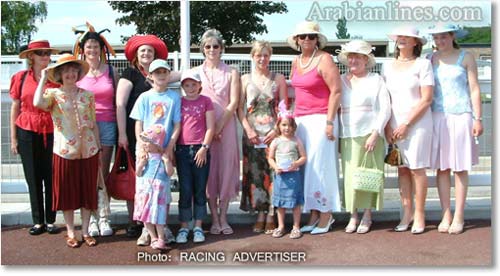 BEST DRESSED AND BEST HAT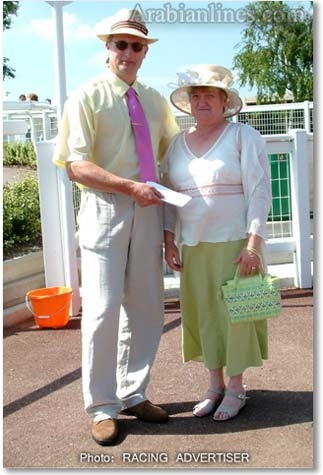 WINNER BEST HAT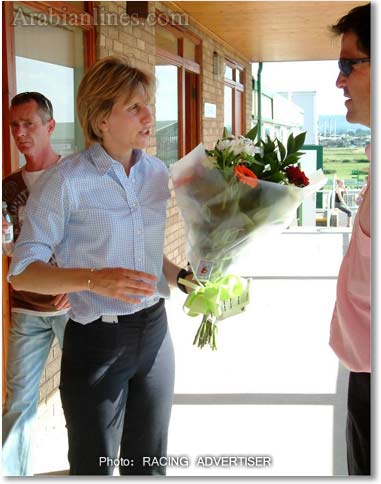 DI CLARK Receiving Bouquet of Flowers from Sponsors BRIGHTWELLS at HEREFORD