alkarif
Gold Member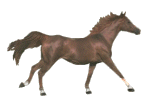 United Kingdom

800 Posts

Posted - 22 Nov 2011 : 4:38:00 PM





---
Congratulations Becky with your success at the Champions of the Future show last Sunday with HT Nybia.

She looked and went beautiful - she impressed all the judges in the Supreme and Well Done Supreme Yearling of the Year - HT Nybia.

Please pass on my congratulations to her owners.
---


Brenda M - Al Karif Arabians

"God made the horse from the breath
of the wind, the beauty of the earth,
and the soul of the angel.....
May they forever run with our hearts....."

Report to moderator