DanniT
New Member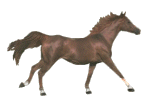 England

17 Posts

Posted - 19 Apr 2009 : 9:56:00 PM






---
Hi There.

As many of you know I am now looking for my old horse Morgan.
Morgan could now possibly be called Meganne?

Morgan/Meganne, was covered in 1998 and was born in 1999.

Morgan: (Marbon Maestro-Roselinda) Morgan is chestnut with a big white blaze going down her face. She will be around 10 now. She has two white stockings on the hind legs and a white little mark on the front right of her leg on her knee.

Morgan/Meganne was bought at SouthDowns Equestrian Centre in Brighton, and was then moved to Newbarn farm for a few months, but was then moved. (She may have even been sold on again)

My uncle and Grandad sold Morgan when she was just a filly.

Please if anyone has any information of where she could be, who she may now belong to, and what she is like now then please let me know.

---
Danni <3
Report to moderator