Despite the vast re-building programme that is presently taking place on the Wales and West Showground in Crick, the Welsh Arabian Horse Show went ahead with high quality entries and large numbers of spectators.
The Judge for the female classes was Bob Boggs from the USA and for the males Mr. Fausto Scanzi from Italy. Both gentlemen gave every horse forward a real opportunity and agreed at the end that they were impressed with the quality of the horses. This is C qualifying show for the rest of Europe and qualification was certainly not easy. The occasional showers did not dampen the exhibits or the supporting crowd and the atmosphere was competative and alive.
The Exhibitors came from all over the UK and many of the horses were imported from around the world. The Judges selected horses from a variety of different countries as winners. Bob Boggs' Junior Female Champion was Silverdale Arabians SHIFALI by FS BENGALI out of G SHYAMASRI, a tall ellegant three year old who dominated the Junior classes and also took the Reserve Supreme of the Show.
JUNIOR FEMALE & RESERVE OVERALL

SHIFALI
3YRS

FS Bengali/G Shyamasri

Owned by Silverdale Arabians - Bred by E Starr
The Reserve Junior Female title went to Susan George's SG BORANYA by BORNEO out of LUZHANA, a mature chestnut filly with charisma to spare. Susan George had an even more successful day when her American imported mare LC SOUTHERN MAGIC took the senior title. This mare is by MAGIC DREAM out of SC PSAVANNAH and really had to acclimatise to the British weather rapidly.
CHAMPION FEMALE
LC SOUTHERN MAJIC
4YRS
Magic Dream/SC Psavannah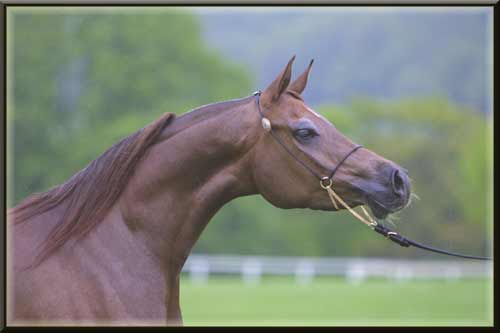 Owned by Georgian Arabians - Bred by La Cabreah (USA)
Fausto Scanzi chose the Austrian import PSYNERGY as his Junior Male Champion. This three year old is by PADRONS PSYCHE out of the wonderful BALATON daughter BALANINA. He is on lease to the Jones Family in Wales who were equally delighted when Ryan Jones and Andrew Atkins Yearling Colt was chosen as the Reserve. This colt named ORA EL KHAN is by ORASHAAN out of RAQQISA and is a three quarter brother to the successful QAMER EL DINE.
JUNIOR MALE CHAMPION

PSYNERGY
3YRS

Padron's Psyche/Balenina

Owned by Mr and Mrs E Jones - Bred by H Trummer (Austria)
As usual the Gelding classes were very well filled with some exceptional exhibits forward. The eventual Champion was FFERZAN by FFATAL ATTRACTION out of FAZLETA. The Reserve was SHAAFIG who was by ANSATA EL SALAAM out of FFABERGE.
CHAMPION GELDING

FFERZAN

Ffatal Attraction/Fazeta

Owned by L. Biles
The rain cleared a little for the afternoon classes, but gave the Stallions a thorough soaking. Nevertheless the majority of stallions gave excellent performances and moved spectacularly around the ring despite the wet grass. Stallion Champion and Overall Champion of the Show was ALI KHAN by AL HAKKIM out of SHARENE. This nine year old bay owned by Mr. Poulter from the Isle of Wight had won many prizes as a young horse, but had not been shown for some time. He has now been reunited with his original handler Rhodri Jones who was a mere teenager on their last major outing and today showed that they had not lost their rapport.
SENIOR MALE CHAMPION & OVERALL CHAMPION

ALI KHAN
9YRS

Al Hakkim/Sharene

Owned by Mr R Poulte - Bred by Mr and Mrs E Jones
The Reserve Stallion Champion was Mr & Mrs. Bob Turners AZTEQ by BORNEO out of ASHIQA bred by the Maxwell Family and shown by daughter Emma.
RESERVE SENIOR MALE CHAMPION

AZTEQ

Borneo/Asjiqa

Owned by Mr and Mrs Turner Bred by Maxwell Family
Mark Fullers Ridden Champion of the day was SHADDOW BLUE, Mr & Mrs Titerington's six year old grey stallion ridden superbly by Liz Needham. with the Reserve Title going to LITTON MAGICAL MISTRAL a chestnut gelding owned by Victoria and Alex Lucas and ridden by Alex.
CHAMPION RIDDEN

SHADOW BLUE
6YRS Stallion

Banner of Blue/Kesharma

Owned and Bred by Mr and Mrs R Titterington ridden by Liz Needham
Sue Bundy chose as her Anglo/Part Bred Female Champion Pat Hannay's SHILBROOK TEASLE a bay mare by STRINESDALE MATADOR out of RAZAMATAZ and her Male Champion was Miss Harvey's LANGAGE PRIME TIME, a yearling gelding also by STRINESDALE MATADOR out of First Lady.
A very pleasant day out for the keen spectators who were treated to an array of excellent displays from some quality horses.