The 2nd Egyptian Event UK took place at a new venue - the beautiful Addington Manor which is ideally placed in central England just south of Buckingham.
The facilities were absolutely A1 - two large, well-lit and well-maintained indoor schools (the "poopa-scoopa" man came out regularly!); international dressage arenas; acres of lovely parkland; a good cafeteria and a bar; showers (clean - at least to start with!); spacious indoor stables (although some were quite a distance from the arenas); a superior sounding PA system …I believe the venue is under new ownership/management and if this standard can be maintained they are certain of success.
The judges had come from far and wide - Liz Salmon from the USA; Dr Francesco Santoro (Italy); Willie Poth (Germany); Dr Nasr Marei (from Egypt and I think making his UK judging debut); with UK's Audrey Paul as Reserve; Anne Green (Ridden) and Paul Turner (Dressage).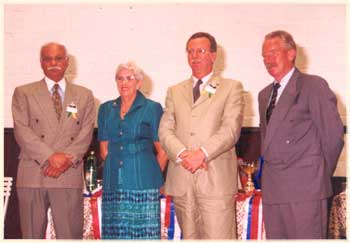 The Judges of The Egyptian Event
Although entries were slightly up on last year and some lovely Arabians were on view it must have been disappointing to all concerned that entries forward ranged from zero to a maximum of 8.
The Event is basically arranged into 3 sections -
Straight Egyptian (SE) of which there are relatively few in this country but their numbers are growing annually via imports and breeding.


Egyptian Related/Bred (ER) - sired by a SE or both grandsires SE (in either case the dam must not be a SE).


Egyptian Influenced (EI) - having a SE within three generations (sire/dam; grandsire/dam; great grandsire/dam) which must cover a considerable number of Arabians in this country. Indeed it seemed strange to see several "Russian" Arabs (in both the ER and EI sections) but they of course are perfectly acceptable via the Egyptian stallion Aswan who was used so extensively at Tersk.
Equally some "Polish" Arabians could have entered - via Aswan's son Palas. Perhaps owners are still unsure of their horses' pedigree qualification - if you are just send details to the organisers and they will soon say "Yeah" or "Neigh"!!! So check your Arabians' pedigrees and make date for 2002!!! Stallions, colts, mares, fillies, foals and geldings all have in-hand classes, plus the ridden, dressage and "speciality classes" - 54 in all!


The 2000 show Supreme Champion Maysoun (DE) had returned to Germany after his brief stay at the Jones' Bychan Stud but his influence continued via his son Orashaan (DE) who is making a return visit to Bychan. Indeed the Jones family had brought three horsebox loads and seemed to be showing (and winning) in almost every in-hand class!

| | | |
| --- | --- | --- |
| | | |
| | Supreme Champion: Orashaan | |
The show opened with the EI Youngstock classes and culminated with Championships for the colt Grando (Grenlando/Martina Nareen) and filly Karalisa (Ibn Charismma/Kalana) - both exhibiting spectacular movement - with the former owned by the Jones' and the latter shown for Andrea Ware by Ryan Jones.
The Geldings section covered SE/ER/EI and here the Champion was the well-known Kabbari (Crusader (SE)/ Kazanina) - another Ware/Jones combination - looking magnificent and towering over the opposition. Reserve was the flamboyant bay Fferzan (Ffatal Attraction (US)/Fazleta) shown for Louisa Biles by Mark Gamlin.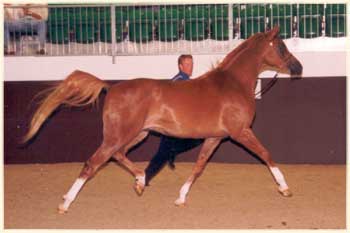 Andrea Ware's Gelding Champion KABBARI
Next the ER youngstock classes where last year's Reserve Supreme Ora El Masri (Orashaan/Alianda) began his 2001 winning ways, again for Bychan with another Orashaan son, Eddashan in Reserve. The female section resulted in a Championship for a very pretty, typey steel grey filly named Haiti Shaklana (MA Alishah (US)/Halina Shaklana) owned and bred by Susan George and shown by Matthew Gales. Susan brought five horses to the show and was elated when each one returned with at least a red rosette!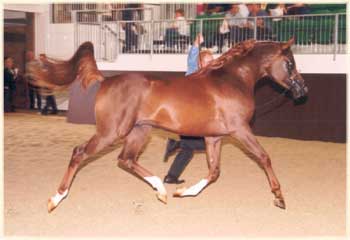 Ryan Jones' ER Male Champion ORA EL MASRI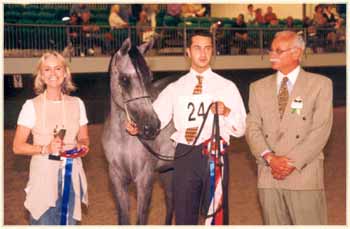 Susan George, HAITI SHAKLANA, Matthew Gales and Dr Nasr Marei
The SE youngstock section was headed by the Bychan colt Jedah (Orashaan (DE)/Siametta (SE)) and the filly Kateefah (Kerim Shah(US)/Moneeshah) owned and bred by Mrs A Potts and shown by Lisa Carter. Reserves were Mrs R Brown's EA Sinbad (Orashaan (DE)/AK Sheherezada (US)) and the Marr's Divine Grace (US) (Thee Desperado (US)/JA Amazing Grace).
The Brood Mare class was won by the USA import Raqqisa (Gamal Al Arab/Rahmaa), now owned by Pam Cooper with her Maysoun colt foal taking the Foal Championship.
Final class of the afternoon brought 7 forward for the Junior Classic Head which Dr Marei awarded to the Turners' colt Azteq (by the Spanish Borneo ex Ashiqa).
Outside in the wonderful dressage arena Susan George's Luzhana's Star Gazer (Ibn Estasha(DE)/Luzhana) ridden by David Steans was performing two tests almost in splendid isolation!
We returned to the arena mid-way through the evening for the Costume Class. The two entries had a combined age of 45 - not that anyone would know that from their performances! The incomparable Aliha (Indian Silver/AK Atallah (US)) with Emma Maxwell was back in the limelight and loving every minute! Second was the Marawan daughter Hidayed owned by Mr and Mrs Tatam.
The evening horse-wise closed with The Stallion Showcase where Chi Lin Tienshan (Lyndham Tarac/Lazuli of Chi Lin) and the recently imported Ansata Shaamis (Ansata Halim Shah/AK Faressa) were centre stage. The Gala Evening dinner dance and auction (including that of slaves!) went on well past midnight (1.11 a.m. to be precise!).
Next day the sun shone again making me wish we were outside and able to use that lovely parkland as a background for photographs! Day Two followed the same format but for Seniors. EI Females saw a successful return to the ring for Pauline Hitchings' now alabaster beauty TAS Fascination (Zircon Nazeer/Jemille) who held off the challenge of Caroline Reeves' International Show sensation, the hovering "Russian" Magdalina (Gvizd/Moskawa). ER Females went to another of Andrea Ware's this time Meenah (DE) (Mukthar (DE)/Dimira (DE) with Amira Al Noor (SES Pasha's Mirat (US)/Nekeyah) taking the Reserve for Mrs J Harris and Mr P Hardcastle.
SE mares were very few in number but the Marrs' JA Amazing Grace (US) (AK Ishmael/AK Sharoufa) lived upto her name and made her UK debut a Championship winning one in the hands of Mark Gamlin with Emma Maxwell showing Delyth Gamlin's A Little Tenderness (Crusader (SE)/ Bint El Sanaa (US)) to the Reserve.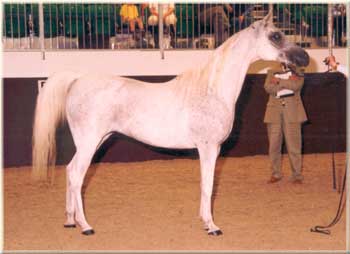 John and Wendy Marr's SE Female Champion JA AMAZING GRACE
In the outside ring Delia Theobald and Mistic Moon (Spoetnik/MC Lady Misteri) were repeating their 2000 win to became Ridden Champion with Luzhana's Star Gazer in Reserve.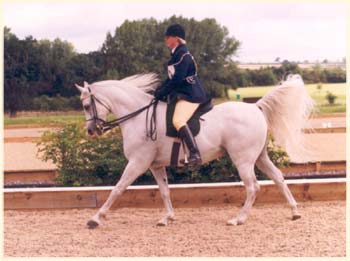 Ridden Champion: Mistic Moon and Delia Theobald
The afternoon session commenced with a one minutes silence in respect of Major Ian Hedley who had very recently passed away. Major and Mrs Hedley and their Briery Close Arabians had attended the 1st Egyptian Event and were due to attend the 2001 show. It would be impossible to adequately represent the Major's contribution to the Arabian in the UK, indeed world-wide, in a few words here, but on a personal level Peter and I owe much to the Hedleys, for they (and the Houghtons) instigated our involvement in photographing Arabians over 20 years ago and our thoughts are with Annette at this sad time.
The atmosphere went up a gear as the stallion classes commenced. EI Male Champion was the tall and attractive Narismma (WSA Charisma (US)/Nazieka) owned, bred and shown by Rebecca McCormick but it was a close shave as Caroline Reeves very explosive little stallion G Shakib (Ibn Estopa (DE)/ Omel Shiva Estopa) was awarded 100% for his movement! ER Champion was another marked 100% for movement - Andrea Taylor's Hakka (Al Hakkim (US)/Kyrenia - a rare individual who manages to out-trot Rhodri Jones! Reserve was another big mover - Susan George's 20 year old Artist (Aswan/Stitha) bred by the Tersk Stud. What could the Straight Egyptians come up with now?
Well after all those off-spring of Orashaan it was time for him to make his own entrance! Flying round the ring Orashaan scored 92 - the highest points of the show - to take the Championship ahead of his Bychan neighbour Emiratus B (El Thay Mameluk (DE)/Ibn Galal 1) bred by Babolna Stud (Hungary).


ER/EI Supreme Champion:Narissma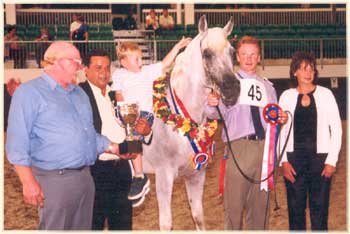 Orashaan presentation: L to R Emrys Jones, Donald Duke (Patron) and son,Rhodri Jones and Merylyn Drain (Executive Director)
A little relaxation was now required and came via the Senior Classic Head class. Eight were forward with Dr Marei picking out last year's Champion the mare Saatiah (Carmargue/First Blush (US). However Saatiah in a "head-to-head" with the Junior winner had to give-up her beautiful Karen Kasper bronze award to Azteq.
Up a gear again - this time for the Liberty Class, also judged by Dr Marei. First in was Emma Maxwell's SE mare Belkis Al Badia (Crusader/Bint Al Badia) showing off a great trot and just pipping (amongst others) Magdalina. This mare has obviously got a special relationship with Emma as she came back into the ring to receive her reward of a beautiful framed picture of an Arabian cantering in the desert wearing just a rope loosely round her neck (the Aliha of the future?).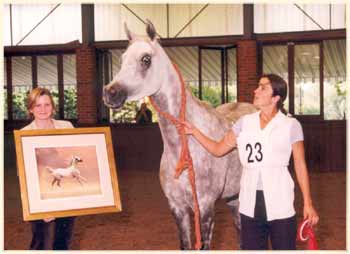 Belkis Al Badia: Liberty Class winner presented by Emma Maxwell
Final Championships time! This is where the Juniors and the Seniors for each sex/section come together and then the Section Champions until there are just two left - a ER/EI Supreme and a SE Supreme and then they become the Supreme and Reserve Supreme of the Show! Phew! Lots of lovely rosettes/sashes/trophies available here plus £1000 to the Supreme and £500 to the Reserve!
RESULTS

SE Female Champion:

JA Amazing Grace

Reserve:

Kateefah

SE Male Champion

Orashaan

Reserve:

Jedah

ER Female:

Haiti Shaklana

Reserve:

Meenah

ER Male Champion:

Ora El Masri

Reserve:

Hakka

EI Female Champion:

Karalisa

Reserve:

TAS Fascination

EI Male Champion:

Narissma

Reserve:

Grando

ER/EI Supreme Champion:

Narissma

Reserve:

Ora El Masri

SE Supreme Champion:

Orashaan

Reserve:

JA Amazing Grace

Supreme Champion of the Show:

ORASHAAN

Reserve Supreme Champion of the Show:

NARISSMA
So the 2001 Egyptian Event came to a close and I eventually got my wish to photograph some beautiful Arabs outside although my idea of photographing them standing between the sphinxs could not happen as the sun was now at the wrong angle!
Final message - look at those pedigrees and book the date for the 2002 Egyptian Event UK! Executive Director Merylyn Drain, Patron Donald Duke and their hard-working team would be delighted to see you!
Marilyn Sweet
Photographs © Sweet
Graphic design © Arabian Lines