19th August 2001
ARAB, ANGLO & PARTBRED CLASSES
Reporter : Claire Ward

After torrential overnight rain Sunday at the Three Counties Show proved to rather damp with very slippery, soggy conditions which probably accounted for the poor turnout on the day despite a good number of catalogue entries, particularly in the In Hand Classes.
The Ridden Arab/Anglo/Partbred Classes took place in Ring 5 at 3.30pm. By this time the day had brightened considerably and become somewhat warm and sultry.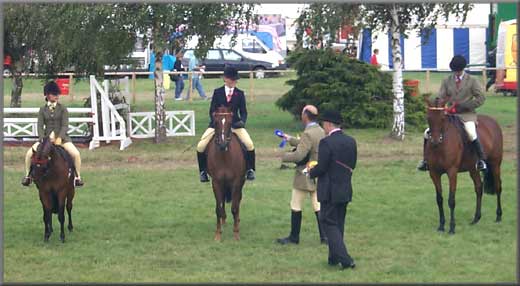 (R to L) Champion Whinchat's Flight of Fancy, Res. Champion Hindwood Taffeta and 3rd in class, Colbeach Seville (H144).
The Judge Mr. R. Mills, was fair and thorough in his judging and did not take too long.
In the purebred classes he was given a superb ride by Mr. Ash's Jammilah ( the eventual winner of H143), as did the second placed Ortanique, Mrs. Trumper's nice compact gelding by The Frosted Orange.  Third placed was the youngest horse in the class, Miss Antoniade's Brede Bellissma, a delightful 4 y.o. grey roan mare, obviously in her novice year, but beautifully schooled she provided Mr. Mills  with an eager but balanced, relaxed and obedient ride.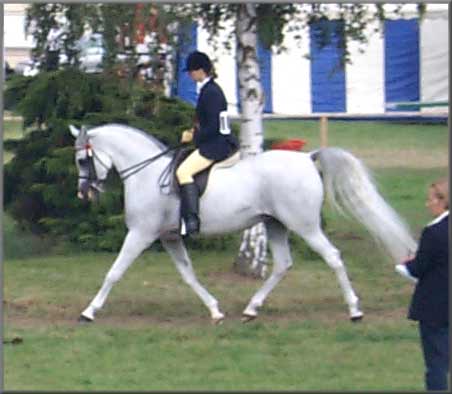 Mr. Ash's Jammilah, 1st in class H143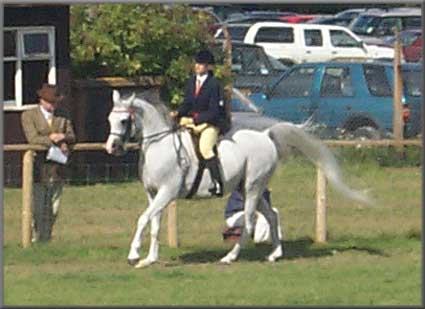 Mr. Ash's Jammilah, 1st ic class H143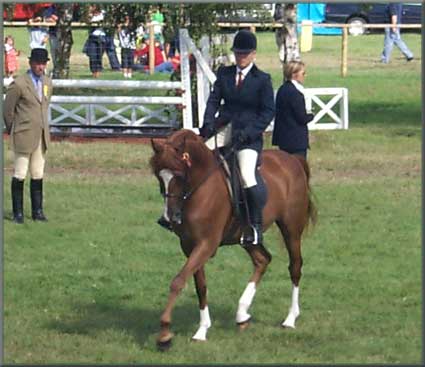 Mrs. Trumper's Ortanique, 2nd in class H143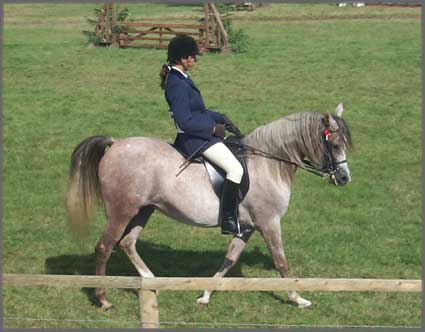 Ms. A. Antonnaide's Brede Belissma, 3rd in class H143
The Anglo/Partbred class produced some quality horses with 1st and 2nd both by Chiddock Fankino and 4th by Royalswood Dark Secret.  Mr. Mills, in his first line up had 1st and 2nd in reverse order to the result and changed them in his final decision. Obviously a close-run thing, although I fancy that Whinchat's Flight of Fancy has a touch more Thoroughbred in her pedigree than Hindwood Taffeta.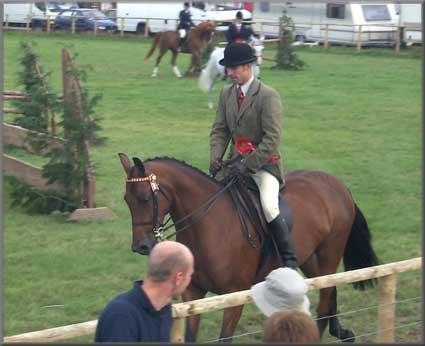 Mr & Mrs. J. Payne's Whinchat's Flight of Fancy, 1st in H144 and Champion.
Whinchat's Flight of Fancy, a 7 y.o. bay owned by Mr. & Mrs. Payne looked beautifully relaxed, despite the close proximity of the screeching bungie-jumpers and the octopus shaped balloons bobbing about in the 'mini-grandstand' where I was situated.  This mare merely looked extra interested and elevated her paces accordingly! - all in all she looked a joy to ride.  The older but smaller horse Hindwood Taffeta owned by Miss J. Newberry, a nice compact mare also gave Mr. Mills a relaxed, obedient ride, producing nice straight paces but was a little shorter in stride length.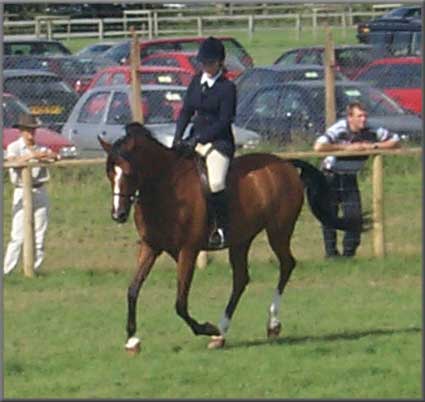 Mrs. G. Smith's Charabba, 4th in class H143
The third placed pony must also be mentioned, Mrs. M. Waring's Colbeach Seville an 8 y.o. gelding by Willowbay Symphony x Pendley Birthday Girl was very skillfully ridden by Francessca Waring who did her own "show" as Mr. Hill (who appears to be about 5' 10") was rather tall/heavy to ride him.  The youngest horse in the group was place 4th, this being Mrs. French-Brook's Blaircourt Darkglory II, a 4.y.o. mare by royalswood Dark Secret x Princess Dolfuss.  She gave Mr. Mills an exciting, eager ride with a touch of shoulder-in/half-pass when she spotted the octopus balloons in the grandstand, but however, kept her cool!
PUREBRED, ANGLO AND PART BRED RIDDEN RESULTS
Judge: Mr. R. Mills, Corsham, Wiltshire
H143. Purebred Arab Stalliion, gelding, mare, 4 years and over, under saddle to be judged as riding horses.
1st
Mr. Ash's Jammilah, grey 8 y.o. mare by Djammal x Samaseel ridden by Ms. J. Woodward.
2nd
Mrs. Trumper's Ortanique, chesnut 7 y.o. gelding by the Frosted Orange x El Kabrouka ridden by Victoria Lane.
3rd
Ms. A. Antoniade's Brede Bellissma, grey roan 4 y.o. mare by Pita x Brede Gazala ridden by her owner.
4th
Mrs. G. M. Smith's Charabba, bay 11 y.o. gelding by Shahpoor x Debaura ridden by Heather Nicol.
Six out of ten entries were forward.

---

H144. Anglo/Partbred stallion, gelding, mare 4 years and over under saddle to be judged as a riding horse.

1st
Mr. & Mrs. J. Payne's Whinchats Flight of Fancy, bay 7 y.o. mare by Chiddock Fankino x Whinchat II ridden by Matthew Lawrence. CHAMPION
2nd
Miss J. Newberry's Hindwood Taffeta, 9 y o chesnut mare by Chiddock Fankin x Titanias Dream ridden by Kirsty Lockhart. RESERVE CHAMPION
3rd
Mrs. M. Waring's Colbeach Seville, 8 y.o. bay gelding by Willowbay Symphony x Pendley Birthday Girl ridden by Francessca Waring.
4th
Mrs. French-Brook's Blaircourt Dark Glory II 4 y.o. bay mare by Royalswood Dark Secret x Princess Dolfuss ridden by Lucy Warren.
Eight out of nineteen entries were forward.

---
THE IN-HAND RESULTS
PUREBRED ARABS IN HAND
Judge: Mrs. Arrowsmith-Brown, Umberleigh, Devon.
H.133. Mare 4 years old and over with/without foal at foot.
1st
Ms. Alethea Antoniade's Brede Bellissma, grey/roan 4 y.o. by Pita x Brede Gazala.
2nd
Ms.Sally Wrigglesworth's Nazricia, grey 8.y.o by Zircon Nazeer x Patrician Blue
3rd
Ms. E Booton's Shah Flame, 5 y.o. by Benedict x Al Kudaira.
4th
Mesdames Cameron/Walker's La Diva 10 y.o. by Druv x Mazeeka Betahna.
Six out of seven entries were forward.

---

H134/135 (amalgamated). Yearling, Two or Three year old Colt,Gelding or filly.

1st
Mrs. J Scudamore's Kamilla Crystal, 2 y.o filly by El Crysto x Karinda Farah.
2nd
Mrs. J. Scudamore's Seahara Gem, yearling filly by Mystic Gilt x Seagull.
3rd
Mr. Booton's Gayhanieh's Star, yearling filly by Alistar x Gayhanieh.
Three out of four entries were forward.

---

H.137. NOT AWARDED.

---

H138 Arabian gelding 4 years and over.

1st
Mr. Davie's HT Fayid 4 year old by Shaikh Al Kuran x Bint Firkri. CHAMPION
2nd
Mrs. Trumper's Ortanique 7 y.o. by the Frosted Orange x El Kabrouka.
3rd
Mrs. Mclaughlan's Klasique 9 y.o. by Nazran x Kalisha.
Three out of four entries were forward.

---

H139 Arabian Stallion 4 years old and over.

1st
Mrs. M.J. Bint's Ibn Benedict, 4 y.o. by Benedict x Al Kudiara.
2nd
Mrs. M.J. Bint's Distinct, 9 y.o. by Rumak x Distancia.
Two out of two entries were forward.

---
ANGLO AND PART BRED ARABS IN HAND
Judge: Mrs. Charlotte Rowell, Penallt, Monmouthshire.
H140.Yearling Anglo/PB colt, filly, gelding.
1st
Mrs. J. Salmon's filly, Henley Down Picturesque (riding Pony x PBA) by Deanhills Royal Portrait x Westhill Debonair. CHAMPION
2nd
The Hon. J. Guiness's colt, Dandelion by Dante (AHSB) x Teasle(PBAR).
3rd
Mrs. Robinson-Brown's filly, Deanhills Sillouette (Riding Pony x PBA) by Sandbourne Royal Ensign x Rosslyn Sweet Fun.
Three out of seven entries were forward.

---

H141.Two/Three year old Anglo/PB filly/colt/gelding  unlikely to make 147.3cms/14.2 hh.

1st
Ms. S.A. Roberts 3 y.o colt, Royalviews Last Symphony by Willowby Symphony x Thornsett Miss Dior Ella.
2nd
Mrs. M. Selby's 3 y.o. filly, Archwood Animation by Wentward Hummingbird x Copybush Occasion.
3rd
Mr. & Mrs. R. Sampson's 3 y.o. filly, Trelawn Samsara (Riding Pony x PBA) by Colbeach Splendour x Trelaws Coco.
Three out of six entries were forward.

---

H142. Two/Three year old Anglo/PB filly, colt ,gelding likely to exceed 147.3cms/14.2 hh.

1st
Mrs. Alexandroff's 2 y.o. gelding, Apres Nous by Keston Tribune x Sunray Sincerity.
RESERVE CHAMPION
2nd
Ms. Newstead's 3 y.o. filly, Okehayes Sunset Boulevard by Kizar x Ty-Draw Peep O' Lace.
3rd
Mrs. J. A. Pouch's 2 y.o. filly, Pau Jacq Flight of Fancy by Kings Flight x Ekeala.
4th
The Hon J. Guiness's 2 y.o. gelding, Silvaticus by Cranleigh Swift Reflection x Cristata.
Four out of five entries were forward.

---
Claire Ward