Press release – Lanhydrock Christmas Ride
Families visiting Lanhydrock House the weekend before Christmas, must have been bemused to see the coach carpark full of trailers and horses dressed in tinsel with their riders looking like lots of Father Christmases, trotting across the park.
Thanks to the generosity of the Lanhydrock Estate and Forest Enterprise, it was the very popular Christmas Ride organised by the South West group of Endurance GB.
"The ride gets more and more popular every year," said the organiser Frances Webster. "This year I had the first entry in September. Both our members and local pleasure riders enjoy the fun of decorating their horses, and the wonderful route around the estate.
"It's a fun ride with carrots for every horse and mulled wine and mince pies for the riders when they get back."
This year, for the first time, I was able to take part and, with my ever enthusiastic little mare, had a lot of fun riding a scenic and easy to follow route around the estate. From the carpark, we rode out through Lodge Plantation to the road and then turned off to follow a really good track around the back of Little Cutmadoc Farm. This led into a grassy field with wonderful views right across the valley with the railway line in the distance. Then, it was back onto a track and downhill around Dreasonball Wood to the lane at Dreason.
From here, there was a diversion into Hart Wood, following a leafy uphill track to the log stack at the top and descending again via a broad forestry track. A quick trot up the lane and through fields belonging to Cutmadoc Farm and we were back into the sheep pastures surrounding the park.
This was part of the Lanhydrock cross country course and there were some formidable but tempting jumps! We resisted the temptation and cantered on into the main part of the park. Here, both to my surprise and the astonishment of some visitors, the route entered the lower garden by the side of the house and followed a wide track up through the rhododendron bushes that are so glorious in springtime.
From here the track wound its way downhill through the woods past the old moss covered remains of the stone quarries and Newton Lodge before crossing the avenue and winding up through the Lower Park to the finish.
Many thanks to Frances and Peter Webster for their organisation, to the estate for allowing us to do the ride and to the many stewards manning gates and checkpoints. It was a lovely ride, impeccably marked, which made a really enjoyable start to Christmas.
The Best Decorated Rider was Kim Hammond with Rachel Claridge as runner up. Katie Rowe had the Best Dressed Pony and Jessie Lethbridge was the runner-up.
Jane Holden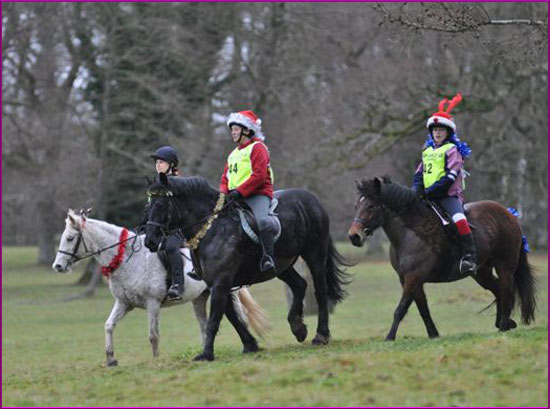 Pic : From left to right – Kelly Basby from Penryn on Meg, Jackie Meyers from Falmouth on Black Jack and Lydia Vinniscombe, also from Falmouth on Golly Miss Molly.
Picture by Caroline Cooper