The Caledonia Challenge, 1 September 2007
By Kirstie Graham

SCOTLAND'S first CEI ride, hosted by the Scottish Endurance Riding Club, was won by Englishwoman Rachel Ingvaldson, reports Kirstie Graham.
Rachel decided to make the long journey from Somerset to compete in the CEI** 110km Caledonia Challenge thanks to ride cancellations as a result of poor weather and foot and mouth, to try her new horse, eight year old French Arab gelding Jurassic, at his first time at this distance.
"He gave me a fantastic ride: he basically pulled for 100km. The atmosphere at the venue was fantastic and the Scottish hospitality amazing. It wasn't a fast route, we won at 13.95kph, but we enjoyed the great facilities and the racing finish."
There was a three way race to the line, with Grampian rider Kate Robertson ahead by a whisker, only to be eliminated for lameness at the final vetting. Second place went to Scottish rider Evelyn Frame on her 14 year old mare Simply Special (Ginti), who also claimed Best Condition.
"The Best Condition award was a great achievement for Ginti, as she is a big girl, of unknown breeding, so I always have to work that bit harder to crew her down compared to the Arabs. We left the last vet gate about four minutes behind the leaders. We caught them up quite early in the loop and kept together, keeping the pressure on right up to the line."
The only other successful finisher was Scottish rider Susan McArthur on her 17 year old Arab gelding Kublai Khann, who declined to take part in the racing finish and crossed the line ten minutes after the front runners to claim third place from the initial field of seven.
This was the first CEI ride to take place in Scotland, based at the new National Equestrian Centre, just outside Edinburgh. SERC Vice Chairman Fiona Henderson said:
"The facilities at the Equestrian Centre were ideal for our sport, with everything on site for stabling, corralling and camping, and the staff bent over backwards to accommodate us. SERC celebrated its 25th anniversary this year. Hosting a CEI ride in Scotland shows that we have come of age and we plan to build on this success to be bigger and better next year."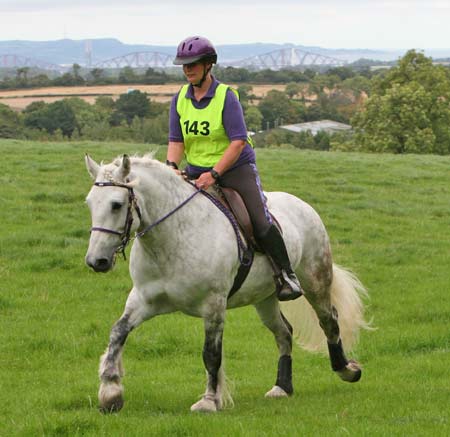 Alley McShane and Dunedin Victor
Due to the cancellation of the Scottish Championships this year, as a result of the wet summer, the Caledonia Challenge also hosted the Novice Championship, for SERC horses in their first year of competition. This was won by Kay Conafray on her Standardbred cross Arab mare Maia. They also picked up the Best Condition award. Other classes ranging from 80k to Pleasure attracted a large entry, and the routes – a mixture mainly of tracks, fields and forestry – won much praise, particularly for the total absence of gates.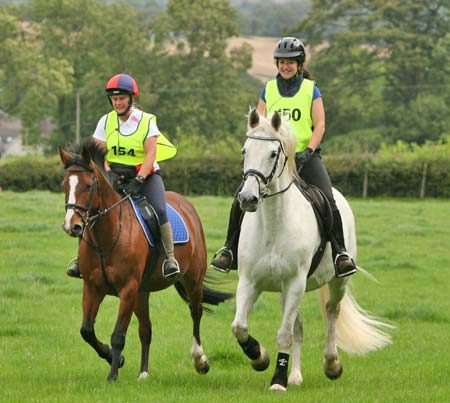 Helen Woollven With Rio And Rakel Fernandez With Ceriblue
Results
FEI 2* 110km
Rachel Ingvaldson (EGB) Jurassic, (speed kph) 13.95, (HR) 52, 1st; Evelyn Frame (Loth) Simply Special, 13.95, 58, 2nd, Best Condition; Susan McArthur (Loth) Kublai Khann, 13.61, 56, 3rd; Flip Seccombe (EGB) HT Ali al Salim, elim lame; Kate Robertson (Gram), Lady Bathsheba, elim lame; Pat Dorward (Gram), Free Factor, elim lame; Jennifer Kidd (EGB) Keeloges Shamoah, elim.
80km CTR
Francis Bakker (Bord) Martje, 12.32, 46, SC2 Gold/ GT part 1/Best Condition; Karen Shotton (EGB) Patchwork Polly, 11.92, 50, SC 2 Silver; Hannah Shotton (EGB) Miss Molly Malone, 11.92, 44, SC2 Gold; Jane Holstein (Gram) Polmallys Lord Abu, 12.03, 56, SC2 Silver – STF; Katie Keith (Gram) Jakhiri, 12.03, 58, SC2 Bronze – STF; Robert Newall (EGB) Rudi Toots, 12.06, 60, SC2 Bronze; Rhona Matthews (Loth) Rosie, 11.46, 50, SC2 Silver – STF; Maxine Palagi (Loth) Saboteur, 11.36, 52, SC2 Silver – STF; Alison Wilson (Loth) Piecki, elim lame.
60 km CTR
Heather Jones (Tay) Danzante Fuego , 13.01, 40, SC1 Gold - STQ/Best Condition; Jean Weightman (Bord) Brysons Chance, 13.24, 56, SC1 Silver – STQ; Rachel Dewar (Bord) Gypsy Cream, 12.92, 47, SC2 Gold; Tony Comerford (Gram) Aratahne Shantyie, 13.38, 51, SC1 Silver – STQ; Marjorie Grant (Gram) Trailtrow Eriskay, 11.7, 54, SC2 Silver – STQ; Anne Short (Loth) Another Chance, 12.92, 44, SC2 Gold.
50km CTR
Kaye Conafray (Loth) Maia, 12.08, 44, SC2 Gold / Novice Champion/Best Condition; Hazel McCorkindale (Arg) Silvallyah, 11.67, 54, SC2 Silver; Jean Gilbert (Dumf) Rilletta, 11.88, 45, SC2 Gold; Andrea Mitchell (Loth) Millie, 11.44, 45, SC 2 Gold – BTF; Susan Tees (Loth) Kassiah Muneer, 12.08, 54, SC 2 Silver; Ann Hallam (Loth) Blissful Serenade of India, 11.48, 42, SC2 Gold – BTF; Karin Rodger (Arg) Fantasi Sky, 11.67, 48, SC2 Gold; Kathleen McGhee (Dumf) Foxghylls Folly, 11.88, 54, SC2 Silver; Aimee McCormick (Loth) Askit, elim.
30km CTR
Iain Paterson (Tay) Tannasg Primo Dancer, 13.88, 46, SC1 Gold / Best Condition; Jennifer Herd (Tay) Birchcroft Glen, 10.68, 52, SC3 Silver; Shirley Yule (Dumf) Mickey, 12.67, 46, SC2 Gold; Ally Nisbet (Loth) Dunedin Victor, 13.16, 53, SC1 Silver; Jane Howard (Glas) Just Luck, 11.72, 40, SC2 Gold; Fiona Whitehead (Tay) Ariel, 11.46, 50, SC2 Silver; Audrey Vardy (Tay) Burning Ambition, 11.46, 50, SC2 Silver; Anne Kerr (Tay) Tia, 12.44, 46, SC2 Gold; Clair Paton (Loth) Mauldslie Black, 11.03, 62, SC2 Completion; Rakel Fernandez (Loth) Ceriblue, 10.46, 50, SC3 Silver; Connie Anderson (Loth) Dream Come True, 11.86, 40, SC2 Gold; Helen Woollven (Loth) Rio, 10.46, 48, SC3 Gold BTQ; Nancy Murdoch (Loth) Alli Balli Bee, 11.86, 42, SC2 Gold; Rhonda Brown (Glas) Ronnie, 11.72, 36, SC2 Gold; Dot Ross (Loth) Coco of Caldside, 10.99, 48, SC3 Gold; Virginia Laing (Loth) Perpop Sweet Symph, 11.86, 45, SC2 Gold/BTQ; Cheryl Wallace (Glas) Wrightfield Omar, 11.72, 37, SC2 Gold; Joan Lewis (Dumf) Calibra, 12.99, 44, SC2 Gold; Seonaid Paterson (Tay) C S Kismet, 13.88, 46, SC1 Gold; Rachel Jay (Bord) Lindores Abbey, 12.22, 37, SC2 Gold; Gillian McKnight (Loth) Forget Me Not, elim; Colin Sykes (Bord) Ruby, elim lame.
Pleasure Ride - 23km
Nicola Bertham (Bord) Maverick, 10.07, 42; Jane Greive (n/m) Angus, 9.39, 44; Frances Lynch (n/m) Sam, 10.87, 52; Jill Calder (Loth) Khebir Shahir, 10.22, 44; Jackie Beattie (n/m) Sam, 10.87, 48; Lindsay Graham (n/m) Sky, 9.39, 50; Jane Webster (n/m) Floris, 9.39, 48; Roz Denby (Dumf) Chywoon Rocky, 10.7, 62; Lindsay Errington (n/m) Seifor Fra Skaney, 9.93, 47; Mary Gardner (Tay) Ellie, 9.93, 48; Alison Irvine (Tay) Brambles, 9.93, 48; Gillian Amos (n/m) Mohawk, out of time; Emma Johnston, Zak, out of time; Julie Quinn (n/m) Zak, out of time.