PRESS RELEASE Issue Date: 6 November 2007

Endurance GB South West, headed by Nicky Sherry, British Endurance Senior Team member take 'centre stage' at the South West Equine Fair on Saturday 24 November.
Endurance GB South West will entertain crowds at the Devon & Cornwall Equine Christmas Fair in the main arena at Westpoint on Saturday 24 November.
Nicky Sherry, local Cornish endurance celebrity and part of the British Team who came 5th in the 2007 European Endurance Championships in Portugal heads the group.
Endurance riding is the fastest growing equine sport in the world. Endurance GB South West will show just how much fun and how easily accessible this sport is for any horse and rider combination. In endurance, competitors ride anything from 20 miles to 100 miles in a day. Although Arab horses proliferate, any breed can enjoy the discipline. This is what the SW Group aims to show
The demonstration begins with a simulated 100 mile 'race' start with Nicky Sherry on her Arab, Shimmering Blue Jasmine and Nikki Routledge riding Irish Draft mare, Wickham's Just Distinct.
Whilst these 'race riders' go 'out on course', South West Veterinary Surgeon and FEI Veterinary judge, Kieran O'Brien, will explain the checks that endurance horses undergo during competition. Keiran has just published a book on Horse Health and his tips are well worth listening to. The welfare of the horse is paramount in this sport. Crowds will be amazed to see the breakneck speed with which riders prepare their horses for the veterinary inspection: it really is something akin to the pitstop in Formula One racing! Few of us can dismount, untack, wash the horse and present to the vet with a horse with a low heart rate in under two minutes! But it can be done!
Not many riders can envisage riding 100 miles and so two more riders will show how the shorter distance competitions can be enjoyed.
12 year old Abby Chisholm on her 'hairy' pony, Holly and Vicky Mosey on Betty, her 15.1hh coloured cob will demonstrate how they compete in the CRs (or Competitive Rides). In CRs, instead of aiming to win a race, the rider can gain a grading. This grading is dependent on the average speed and final heart rate of the horse.
| | |
| --- | --- |
| | |
| Abby Chisholm | Vicky Mosey |
Do come and see Endurance GB South West at the South West Christmas Equine Fair. You can't lose and you might even decide to give endurance a try!
For more information see www.endurancegbsouthwest.com
END
Contact: Annie Joppe , Chairman EGB South West: Tel: 01872-540699
Karen Jones 07818 411 383 (karencjones@btinternet.com)

Editor's Note:
Nicky Sherry competed as part of the British Endurance Team at the 2007 European Endurance Championships. She came 34th as individual. She lives and trains her horses on Bodmin Moor.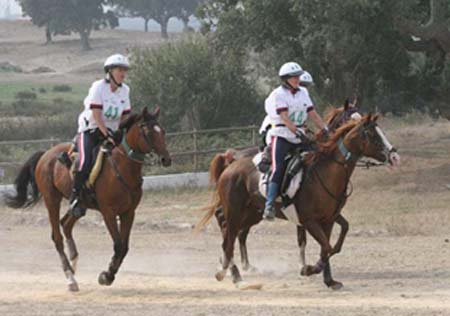 Nicky Sherry riding in the 2007 European Endurance Championships
Nicky Routledge is a McTimoney Animal Therapist and competes two Arab mares in endurance but also competes Wickham's Just Distinct for owner, Dr Angela Osborne. The pair gained a Bronze Award at the prestigious 2007 Golden Horseshoe Ride (100 miles over two days).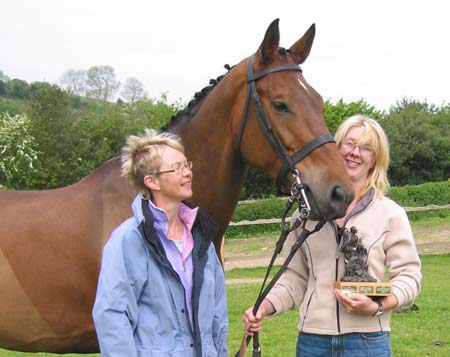 Nicky Routledge & Dr Angela Osborne
Vicky Mosey has been riding for 25 years and her first taste of endurance was crewing for her friend, Katherine Letherby. After doing this for some time, she decided to give it a go her self and took her very sensible coloured cob, Betty, and found she loved it! In her first season she was runner up for the best five results of the season for South West branch Trophy and the following year was runner up for the Devon Shield. The pair specialise in 2- and 30 mile rides.
Abby Chisholm is the youngest member of the group at 12 years old. Her pony, Holly is 14 years old and is now riding at Open level. She comes from a serious 'endurance family'. Mum, Jo Chisholm, has represented Great Britain as part of the British Intermediate Team and her older sister Tessa, has just started entering endurance race rides. Both girls have been helping their father, Andrew, to crew Mum for many years. It is a testament to the fun of the sport that Andrew himself has begun riding in endurance this year!
Kieran O Brien, from Eqwest Veterinary Equine Clinic in Tavistock, has been involved in endurance for many years and has written a book on horse health:
Essential Horse Health: The most common equine health problems solved
Author: Kieran O'Brien, MRCVS
ISBN -13: 978-0-7153-2542-1
ISBN -10: 0-7153-2542-6
David & Charles £19.99

6/11/07