FAIRLYN GEMINI



Photo By Sweet

Fairlyn Gemini is an AHS Premium sire. He has been NASTA performance tested, and is the only Anglo Arab who is Life Approved by the SHB of G.B. He is also a fully graded Trakhener stallion entitling his offspring from graded mares to full pink papers.
RIFFAL
ORAN
ESTRELLA
ORION AHSB
ROYAL DIAMOND
DANCING DIAMOND
DANCING STAR

FAIRLYN GEMINI AASB

THE PHOENIX
POLLARDS
SALOME

LADY POLLARD GSB

PHEBUS
LADY TARINA
TARINA

He has offspring showing, jumping, eventing and doing dressage. The Premium stallion Maximillian of Oakwood is by him, as are the prolific sires, Fairlyn Fanfare and Fairlyn Falcon.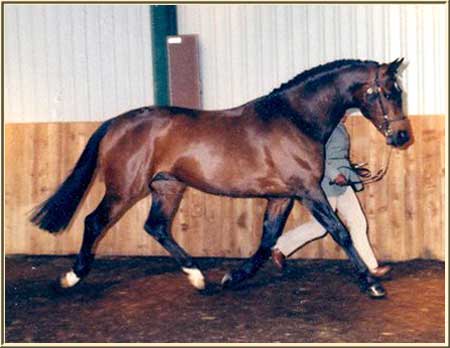 His youngstock compete at the highest levels in all disciplines and inherit his excellent temperament and movement.He stands in Frodsham, Cheshire, and is available by natural service or frozen, chilled and fresh semen.A.I. available.

CONTACT US

ROMARNIC STUD

Mrs Nicky Nash
Bradley Farm, Bradley, Frodsham, Cheshire WA6 7EP.
Tel:- 07768 804856 / 01928 731878